Redefining the integrated facilities management best practices'. Progressive buyers have started opting for an integrator model for sourcing IFM services. This approach ensures streamlined delivery of business processes both by sub-contracting and self-performing activities. New operating models and value-driven procurement offer various facilities management best practices for facility managers to provide strategic value to the bottom-line of their organizations. However, most procurement trends in the IFM industry will be disrupted by upcoming technological enhancements. The main challenge that lies ahead is in terms of creating more sustainable facilities. Bundling janitorial services, pest control, landscaping, and hardscaping maintenance typically offers the highest cost benefits (almost 40% savings) to buyers. Versatility is the key.
Want to discover how you can lower the cost of your procurement process by implementing integrated facilities management best practices? Request a free proposal and we will get back to you with our customized solutions
What is IFM integrated facility management?
Integrated Facility Management (IFM) is a comprehensive approach to managing an organization's facilities and infrastructure. It involves the seamless integration of various services such as maintenance, cleaning, security, space planning, and more, to enhance efficiency, reduce costs, and create a cohesive environment for occupants within a facility or property. The IFM approach involves centralizing and coordinating multiple services to streamline facility operations. It focuses on strategic planning, resource optimization, and vendor management to enhance service quality and cost-effectiveness. By integrating services, processes, and technology, IFM aims to create a harmonious and efficient environment for occupants while achieving organizational goals.
The Changing Landscape of IFM Services Contracting
How can facilities management services be improved?
The integrator model is the latest flavor in the Integrated Facilities Management (IFM) industry. Bundling of services offers cost optimization, enhanced buyer engagement and loyalty, alongside reliance on the latest technologies and procedures that will encourage long term contracts that are linked with proven performance KPIs. However, alongside the obvious advantages, there are a plethora of challenges too.
What are the Roadblocks Impacting the Industry?
High focus on cost driven factors rather than service competencies (which includes integration, standardization, and resolution)
Increase in inflation and labour cost pose a great threat to the adoption of long-term contracts
Increase in market competition due to low-cost unorganized service providers
Different buildings have different requirements, demanding for various levels of automation control
What should smart procurement managers focus on to mitigate the challenges?
Transition from executive sponsorship to executive ownership
Engage in long term contracts linked with performance KPIs
Enforcement of big data and analytics to improve decision-making
Focus on globalizing and centralizing IFM operating models
Progressive Procurement Trends
Shift toward hard services specialization
Major buyers have started preferring service providers that possess strong technical expertise to perform hard services. This is expected to minimize the gap between MRO and FM spends in the future. The acquisition of the technical services division of GSH Group by ISS in 2015 was done to gain strong hard service capabilities.
Focus on providing one-stop solutions for all needs
Since the real-estate and brokerage market is volatile in nature, most leading real-estate service providers have started offering facility management services as well. The acquisition of Johnson Controls Global Workplace Solutions helped CBRE in enhancing its competitive position by providing REFM services through a single platform.
Integration of sub-contracting and self-delivery of services
In large IFM deals, buyers generally prefer self-delivery of services over sub-contracting. However, currently the integrator model is being widely preferred as it integrates process, performance, and reporting, across the supply chain. The KBR Group offers integrator contracts to its buyers which ensures that all the FM services are supplied as per the contract terms.
Delivering value-additions
Most buyers prefer engaging with service providers that provide value-added services such as waste and energy management. Chubb Alba Control Systems, a subsidiary of United Technologies Corporation acquired EcoEnergy, a business division of Wipro. The acquisition is expected to assist UTC in developing its remote monitoring and building analytics capabilities.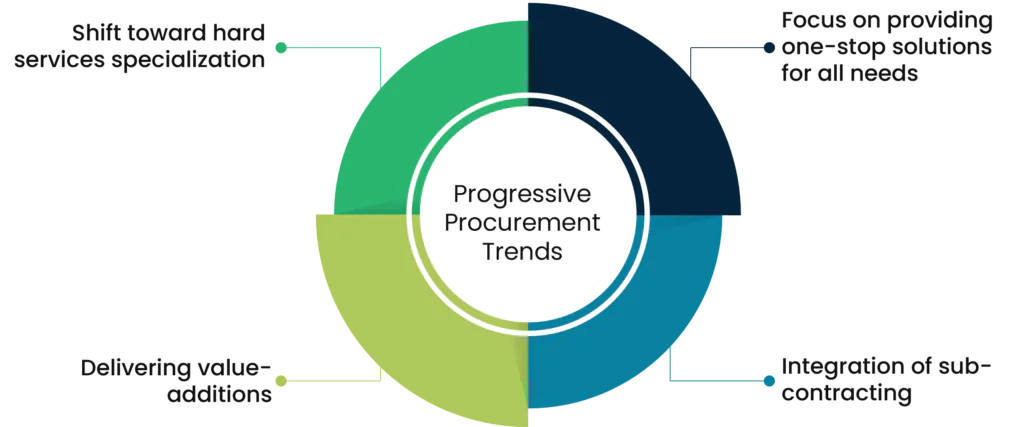 Engagement Models – Integrated Facilities Management Best Practices
Organizations can either integrate the functional areas vertically where all facility services are combined or horizontally, where services categorized as strategic, operational, and tactical, are merged together
Vertical integration can help in reducing the number of service providers and attaining economies of scale through TFM contracts
Horizontal integration can help not only in attaining economies of scales, but also economies of capabilities, where the same set of services are bundled for standardized delivery
Is a Hybrid sourcing model the way forward?
Streamlining Supplier Selection
Select providers with successful records of GMP contracting as success against the rigorous GMP requirements is an easy way to shortlist a service provider's capability to consistently deliver quality service
Performance benchmarking and facilities management best practices to be implemented against a baseline set by the buyers. Connect the outcome of periodic audits to performance-based payment terms
Select an IFM service provider with careful due diligence by checking references to understand their history of process ownership and the benefits that they brought in versus an in-house team
Structure outcome-based performance metrics to monitor performance Carefully structure a transition period between the existing FM process (In-house or Outsourced) to an IFM model
Adopt an internal process facilitator to overcome the communication gap between the IFM working committee and the key business stakeholders
Benefits of Benchmarking for Facilities Management
Performance Improvement: Benchmarking enables facilities management teams to identify areas for improvement by comparing their practices, processes, and performance metrics with those of industry leaders or best-in-class organizations.
Data-Driven Decision Making: By collecting and analyzing benchmarking data, facilities managers can make informed decisions based on industry trends and proven practices, leading to more effective resource allocation and strategic planning.
Cost Efficiency: Benchmarking allows facilities management to identify cost-saving opportunities by learning from others' successful practices, optimizing processes, and adopting innovative technologies that have been proven to reduce expenses.
Quality Enhancement: Comparing performance against industry benchmarks helps facilities managers identify gaps in service quality and implement strategies to enhance the overall user experience and occupant satisfaction.
Goal Setting and Progress Monitoring: Benchmarking provides a clear basis for setting realistic goals and tracking progress over time. This enables facilities management teams to measure their achievements and continuously strive for excellence.
Developing a competitive procurement process is crucial for companies to develop effective strategies. Stay ahead by requesting service on our procurement platform to gain the latest insights into integrated facilities management best practices.
The SpendEdge Advantage
SpendEdge shares your passion for driving sourcing and procurement excellence. We act as a global strategic partner for leading Fortune 500 firms and other leading companies across industries. Our strength lies in delivering robust, real-time procurement market intelligence solutions that helps sourcing and procurement professionals make informed decisions. Our innovative procurement solutions also help enterprises transform structural capabilities, improve execution efficiency, and fast-track time to savings.
Every business needs smart procurement intelligence to stay at the top of their game; we provide actionable insights utilizing lean methodology to help enterprises make better purchasing decisions. We provide businesses with the precise combination of resources, tools, and techniques to help them redefine sourcing and procurement capabilities. We cover a wide spectrum of industries starting from pharmaceutical and life sciences to transportation with expertise in supply market intelligence, spend analysis and benchmarking, supply chain risk assessment, and category management.