By: George Mathew
Procurement is the process of acquiring goods and services from external suppliers that include processes such as sourcing, planning, vendor selection, contract management, purchase orders, inspection, payment, and supplier relationship management. It's essential for organizations to efficiently meet their needs while managing costs and risks. A strategic procurement plan will allow companies to analyze spending data, identify cost-saving opportunities, and build long-term relationships with key suppliers to maximize value and drive competitive advantage. Regular communication with vendors, tracking their performance, and collaborative problem-solving can help build trust and establish mutually beneficial partnerships which will enhance the procurement function. Effective contract management practices ensure compliance, mitigate legal risks, and support supplier relationship management. Standardizing templates, defining terms, and implementing lifecycle processes contribute to procurement success.
Effective strategies to improve the procurement activity in the manufacturing industry
Create a strong and well-structured procurement strategy:
Manufacturing industry players must formulate a well-defined procurement strategy that aligns with the organization's overarching goals to lay the groundwork for effective procurement. This strategy should encompass aspects like cost control, supply chain enhancement, risk reduction, and nurturing supplier relationships. By delineating procurement priorities and goals, executives can clearly convey their expectations to procurement teams, channeling their efforts toward achieving desired results. By formulating this strategic roadmap, manufacturing leaders can effectively guide their procurement teams in the pursuit of these vital objectives. It serves as a compass, enabling teams to align their efforts with the organization's overarching goals.
Develop a healthy and reliable relationship with suppliers:
Fostering robust supplier relationships is vital for effective procurement in manufacturing. Maintain consistent communication with key suppliers to grasp their capabilities, capacities, and potential hurdles. Open and transparent communication promotes collaboration, reveals innovation prospects, and minimizes risks. Implementing supplier performance metrics to assess adherence to quality, timely deliveries, and cost competitiveness is also advisable. Additionally, cultivating trust and mutual understanding with suppliers promotes long-term partnerships. Collaborative problem-solving and joint initiatives can drive continuous improvement in quality, efficiency, and cost-effectiveness across the supply chain.
Strive to continuously improve performance and manage risks effectively:
It is important for executives to identify and assess potential risks in a proactive manner, such as supply chain disruptions, price volatility, and quality issues, and develop contingency plans and alternative sourcing strategies to mitigate risks and ensure business continuity. Additionally, it is recommended to establish a robust supplier qualification process to evaluate the financial stability, ethical practices, and compliance standards of potential suppliers. To drive procurement excellence in manufacturing, executives must create a culture of continuous improvement. This can be done by regularly reviewing and analyzing procurement processes, identifying bottlenecks, and implementing the necessary enhancements.
Emphasize the use of the latest digital innovations and technological tools:
Integrating technology and digital solutions into procurement processes offers substantial efficiency gains and operational streamlining. Manufacturing leaders should consider adopting e-procurement platforms, supplier portals, and software tools to enable automation, data analysis, and real-time monitoring. Harnessing technology enhances procurement transparency, supports data-driven decision-making, and simplifies tasks like supplier onboarding, order processing, and invoice handling. Furthermore, technology simplifies supplier management, making it easier to onboard new suppliers, track performance, and maintain open lines of communication.
How SpendEdge can help manufacturing companies in procurement excellence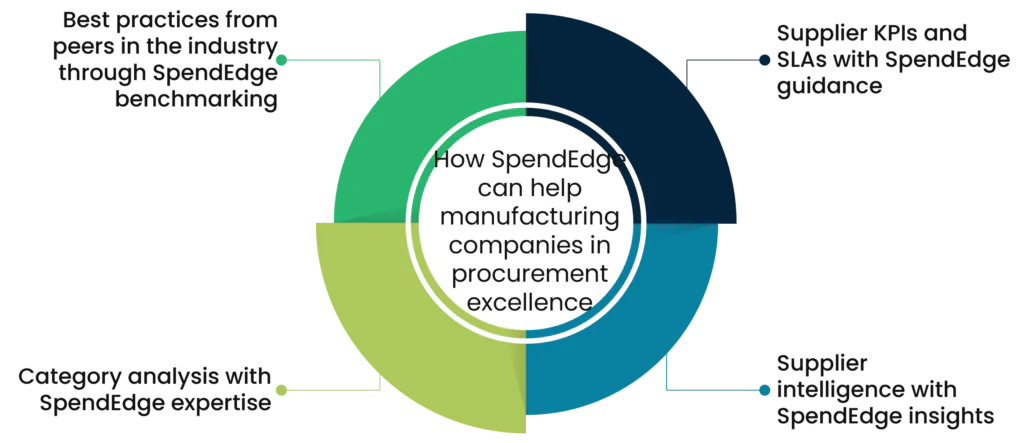 Category analysis with SpendEdge expertise:
Leverage SpendEdge's expertise to comprehensively analyze the market for crucial raw materials. This includes an in-depth examination of market trends, recent developments, supplier strategies, and potential risks that may disrupt supply chains. Our specialized insights help clients make informed decisions. We help you by determining relevant patterns extracted from our large volumes of data and getting a dashboard view of cost drivers and market-shaping trends.
Supplier intelligence with SpendEdge insights:
Gain valuable insights into the capabilities of key raw material and service providers through SpendEdge's supplier intelligence services. We provide clients with a deep understanding of supplier innovations, technological advancements, and emerging trends that can impact procurement decisions. Our due diligence in the vendor onboarding process, and frequent verification of vendor data, will ensure only the best-fit suppliers are selected.
Supplier KPIs and SLAs with SpendEdge guidance:
Our experts at SpendEdge guide you to define the essential Key Performance Indicators (KPIs) for measuring vendor performance. Additionally, we offer expertise in crafting robust Service Level Agreements (SLAs) for contracts, minimizing risks, and ensuring supplier accountability. These procedures and expectations can be used as a written reference to resolve an issue when a disagreement arises.
Best practices from peers in the industry through SpendEdge benchmarking:
Access SpendEdge's benchmarking data to identify best practices within your industry. Discover how leading companies in your sector manage their supplier relationships effectively, allowing you to implement proven strategies and stay ahead of the competition. Our identification of best practices through benchmarking will ensure that the industry is aligned with all the regulatory requirements.
The success story of SpendEdge helping an air filter manufacturer with polyurethane foam procurement
A well-known air filter manufacturer based in Europe that acquires its supplies from global vendors has been facing some challenges during the procurement of materials. They wanted to detect the errors in the procurement process.
The company had a vendor from whom they had been sourcing polyurethane foam. However, they were facing difficulties managing the procurement process – placing orders on time, ensuring timely delivery, making payments on time, checking the quality of delivered materials, etc. The company sought the expertise of SpendEdge to resolve the procurement problem.
SpendEdge analysts conducted a best practices analysis wherein the processes being followed by the client's peers were checked. In addition, the best practices in terms of supplier relationship management were also shared with the client. On further analysis, it was determined that raw material quality had been an ongoing issue for the client. Hence, an alternate list of polyurethane foam suppliers was created, and capabilities were mapped to find the best-fit companies for the client.
Since the contract with the current vendor was set to end in less than half a year, the client decided to wait till the end of the contract before sending out RFx to the alternate vendors shared by SpendEdge. However, the insights related to the best practices helped the client improve the processes they followed while dealing with their current vendor. The net result was better visibility on order fulfillment rates and improved delivery TAT.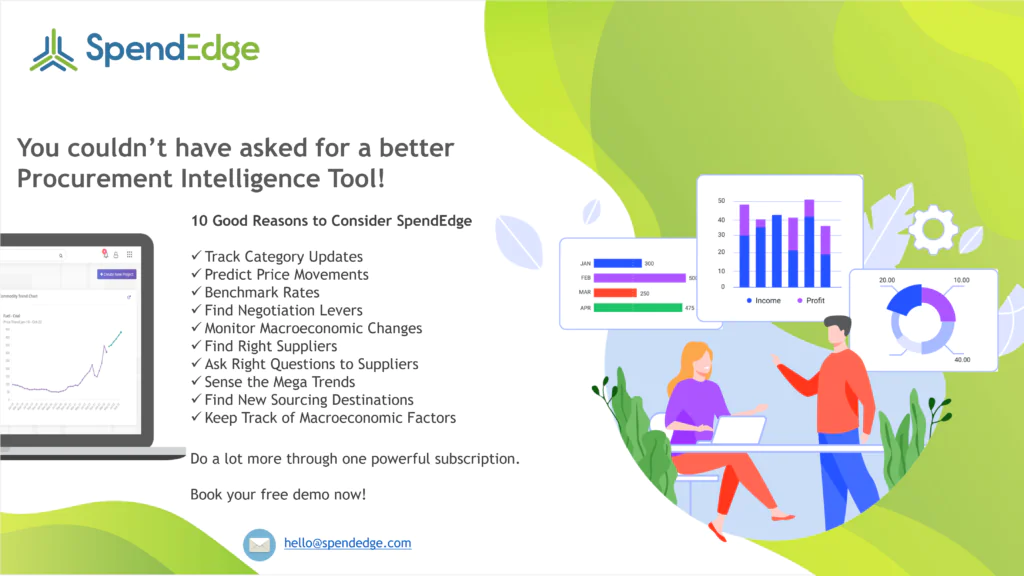 Contact us now to solve your procurement problems!
Author's Details
George Mathew
Associate Vice President, Sourcing and Procurement Intelligence
George is a procurement specialist at Infiniti Research and provides advisory services to clients across the pharmaceutical, CPG & FMCG, energy, and automotive sectors. He specializes in the procurement areas of industry benchmarking, cost modeling, rate card benchmarking, negotiation advisory, and supplier intelligence.