By: Arthi
The global biotechnology market is estimated at $1,300 billion while the biologics sector is pegged at $500 billion. Customized treatment (precision therapies) for common medical conditions and a rise in geriatric medications continue to spur growth for these sectors. However, competition from generic drugs, government-regulated drug pricing leading to lowered ROI, and regulation of pharma products (under the Affordable Care Act) might slow profit growth. More importantly, pharma and biotech sectors are often hamstrung by suboptimal execution of manufacturing strategies. On the quality front, the past performance of these businesses is certainly laudable, but these are also sectors where users and regulators are constantly raising the bar in quality performance at the molecular level! Quality levels and drug delivery times of the past decade are unlikely to cut much ice with present-day stakeholders. There is a new window of opportunity that promises to guarantee quality by design in drug manufacture, and this is a technology concept no forward-thinking pharma player wants to miss. The promise and fulfillment of smart manufacturing – Pharma 4.0 – is quite alluring. The "smart" in manufacturing (represented by sensors, AI, big data, cloud computing) is increasingly transforming the shopfloor into a desktop activity, such that the shop floor organization gets instant alerts via phone, text, or email if any workflow were to deviate from documented design or procedure. More than just big-picture views, predictive analytics, which is at the core of the smart manufacturing process, can help visualize asset health in real time, anticipate equipment failure in advance, support predictive maintenance, and, by so doing, contain operational risks.
So, if the smart manufacturing template is such a guarantor of quality and cost containment, why are many drug manufacturers playing wait-and-watch mode? The short answer is that before committing to this emerging paradigm, manufacturers in the pharma sector would want to learn more (than what fluffy marketing copies on smart manufacturing trends keep telling them) about the security readiness of intelligent and interconnected factory environments. Besides, they want to know what's in it for their enterprise in the short-to-mid-term. Digital transformation is a high-stake investment decision, and much of the success in smart manufacturing hinges on the technology implementation partners manufacturers choose to tie up with. To make sure they end up only at the doorstep of the right smart technology service provider, manufacturers in pharma and biotech need clear-as-crystal supply market intelligence.
Why digitization is key to ending costly shopfloor rigmaroles
Right decisions through big-data-based analytics
Given the manifold challenges in their way, participants in the pharma and biotech sectors must do more with less resources while making significant financial gains. Smart manufacturing, a concept that emerged in the early 2000s, is seeing more uptake across sectors, thanks to its proven capability to deliver high-quality customized outputs, minimize costs, and conserve scarce resources. Essentially, smart manufacturing methods leverage current and historical data from the production activity to draw deep and accurate insights to deliver that big-picture view CXOs need to make better decisions around processing, labor, and machinery.
A performance-aware framework for factory ops
Smart manufacturing facilities, backed by an army of sensors ("things"), as well as cloud-based storage of files and data, are turbocharging data sharing within the pharma enterprise like never before to optimize performance on multiple fronts: energy consumption, waste control, downtime minimization, and emission cutbacks.
Sustainable manufacturing at scale with close-to-nil human errors
With smart sensors continuously keeping a watch on people and ML/AI technologies automating and smoothing workflows, human lapses arising out of inexperience, inattention, and fatigue, as well as catastrophic machine failures have appreciably diminished. The increasing share of renewable energy by smart and forward-looking biotech enterprises is helping them make remarkable progress toward climate goals and meet ever-rising environmental mandates. Based on real-time insights, smart manufacturers in pharma are tailoring new products such as nanotechnology-based drug delivery systems, besides shrinking the drug discovery-to-clinical-trial cycle.
Full automated flexible production with improved cybersecurity infra
More importantly, smart manufacturing is enabling drug makers to continuously recalibrate production schedules in line with demand troughs and crests in the market. Of course, any paradigmatic shift in the industrial space comes with a baggage of concerns, no matter how small it might be. The tiny fraction of manufacturers who still have hesitations about smart factory adoption simply because of undue concerns about cybercrimes risk missing the boat and the associated benefits altogether! By budgeting for cybersecurity and strengthening their organization's cyber posture, smart manufacturers can enjoy the fruits of digitally enabled production while keeping cyber risks in check.
How SpendEdge can help with pharma smart manufacturing?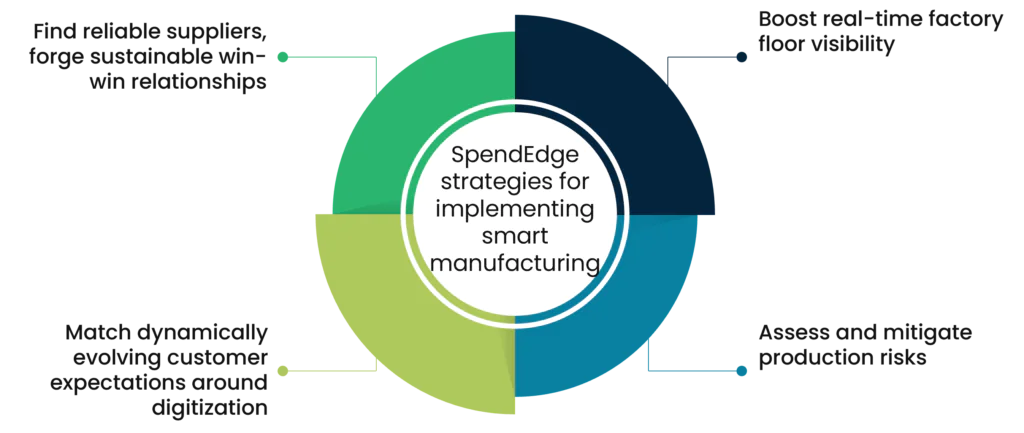 Boost real-time factory floor visibility
At SpendEdge, our experts help clients, including in the pharma industry, get 360-degree views of shopfloor activities, taking care to identify bottlenecks that tend to inhibit productivity and limit the customer experience.
Assess and mitigate production risks
With more than two decades of core sourcing experience, our experts assist players in the pharma and biotech landscape identify biological, chemical, and physical hazards in drug manufacturing and frame appropriate smart manufacturing strategies to quell or contain such risks, thus depriving such threats of any chance to impact production.
Match dynamically evolving customer expectations around digitization
Manufacturers are challenged with lack of shop floor visibility, unplanned machine downtime, spiraling maintenance costs, and worker health and safety risks, and these are bleeding budgets. A lot of manufacturers know digitization of shop floor operations holds the key to easing their load of production issues. But how to go about it? In order to discover and engage with the right vendor, it's crucial that major client expectations around smart manufacturing adoption are carefully catalogued as a first step.
Find reliable suppliers, forge sustainable win-win relationships
Our experts carry out in-depth supply-side research to shortlist potential vendors based on our exhaustive vendor assessment rubric, covering various predefined parameters, not limited to price points and lead times.
Success Story: A pharmaceutical player discovers a hassle-free implementation partner with demonstrable expertise for its smart shopfloor
Our client is a large Europe-based pharma company focused on large and small molecules. Besides, they have a special focus on gene therapies, recombinant proteins, stem cell therapies, and various targeted medications. With a view to bolstering its current focus on biologics and bringing its manufacturing strategy up to speed with demand trends, the company leadership considered shopfloor-wide digitization as a key lever for automating operations and driving manufacturing throughput. Before pivoting production toward Pharma 4.0 smart manufacturing, the company needed a clear dashboard view of what it stood to gain in terms of improved quality control and efficiency gains from the digitization exercise. In particular, the client wanted to ascertain the level of adoption of the digital twin (a virtual real-time replica of the manufacturing facility and all its equipment) by leading pharmaceutical businesses, apart from chemical enterprises, before taking the plunge. The client was actively considering onboarding a vendor with a proven track record of enabling robust digital transformations in the pharma sector with a focus on improved cyber resilience. In mid-February 2022, the client turned to our procurement professionals with significant experience in helping businesses navigate challenges by identifying reliable and performance-oriented supply-side partners.
In a short time, our experts were able to map digital devices, systems, and processes (e.g., IoTs, AI, robotics) across relevant segments of the client's production flow. Based on deep understanding of the market innovations and client's digitization needs, our specialists mapped the technologies, covering various touchpoints in the value chain. We assisted the client teams in understanding the pros and cons of the technology and the adoption of the smart manufacturing methods in pharma and other segments.
As a next step, our team carried out an in-depth and exhaustive evaluation of vendors with demonstrable capacity to implement the technologies in question – with only pleasant surprises for the client. The team compared the costs and benefits of the solution and generated metrics to help the client make an informed decision. Our professionals located and evaluated right-fit cyber-physical security vendors mapping to the client's exacting requirements and prepared a short list of three for the client's consideration. Based on our study, we understand that the client has roped in a technology consultant to conduct a feasibility study of the digital twin solution. The client is through with cybersecurity supplier evaluation and has zeroed-in on a vendor from our short list.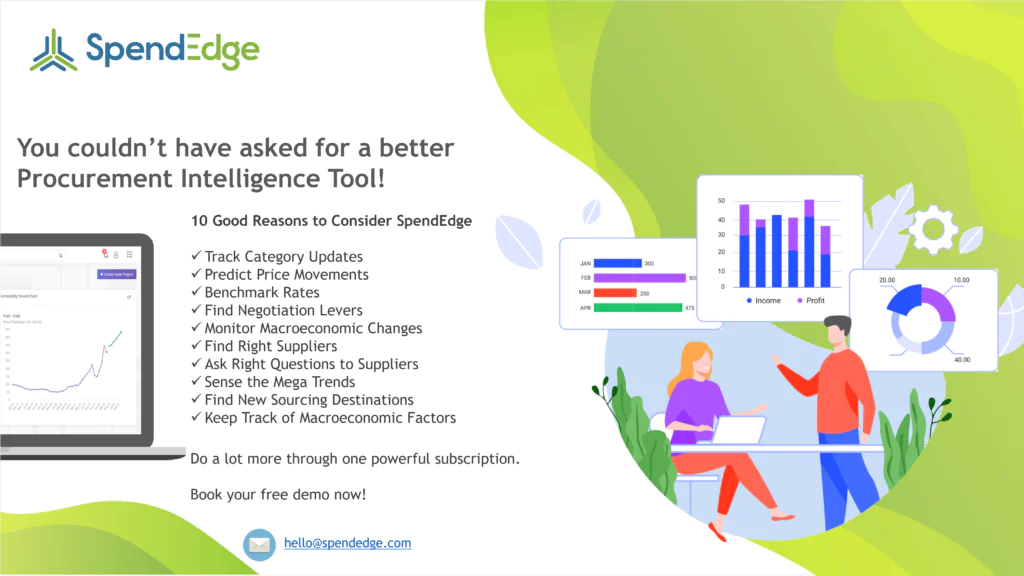 Contact us now to solve your procurement problems!
Author's Details
Arthi
Associate Vice President, Sourcing and Procurement Intelligence
Arthi is an Associate Vice-President with Infiniti Research. She leads one of the procurement intelligence groups within the organization supporting global life sciences and FMCG companies by proving data-driven procurement insights.