By: Ankur Rishi
Spurred by incentives and growing demand, the renewable energy sector (wind, solar, geothermal, hydropower, ocean energy, biomass) is booming. Nearly a third of the world's electricity comes from renewables, led by hydropower (17%). Wind and solar represent 12% of global electricity generation. Despite the all-too-obvious upsides, renewable energy projects continue to be rattled by supply-side issues as much as their fossil-fuel counterparts. Uneven distribution of strategic input materials, a small number of manufacturers wielding significant influence, and the concentration of resources in fewer hands are preventing businesses from getting optimum mileage out of renewable energy procurement. Besides, businesses must dexterously negotiate the sustainability and ethical issues lining their supply channels while signing on, say, a renewable energy independent power producer procurement program.
Business success through renewable energy trends
Companies can make social and environmental scores by increasingly embracing renewables and through corporate renewable energy procurement, but there are the financial "hard numbers" that should be equally compelling for CPOs. From a bottom-line perspective, renewable energy purchases will lower utility bills and meet business's growing appetite for energy, while reducing their exposure to fluctuating fossil fuel prices. Besides there are lucrative incentives for investments in green technology (e.g., 100% tax exemption by Malaysia, 2013-2020) as well as various credits, VAT exemptions, interest-free loans, and more. Importantly, with subsidization of renewable energy, suppliers are providing products at lower costs.
Proactive risk management in the era of renewable energy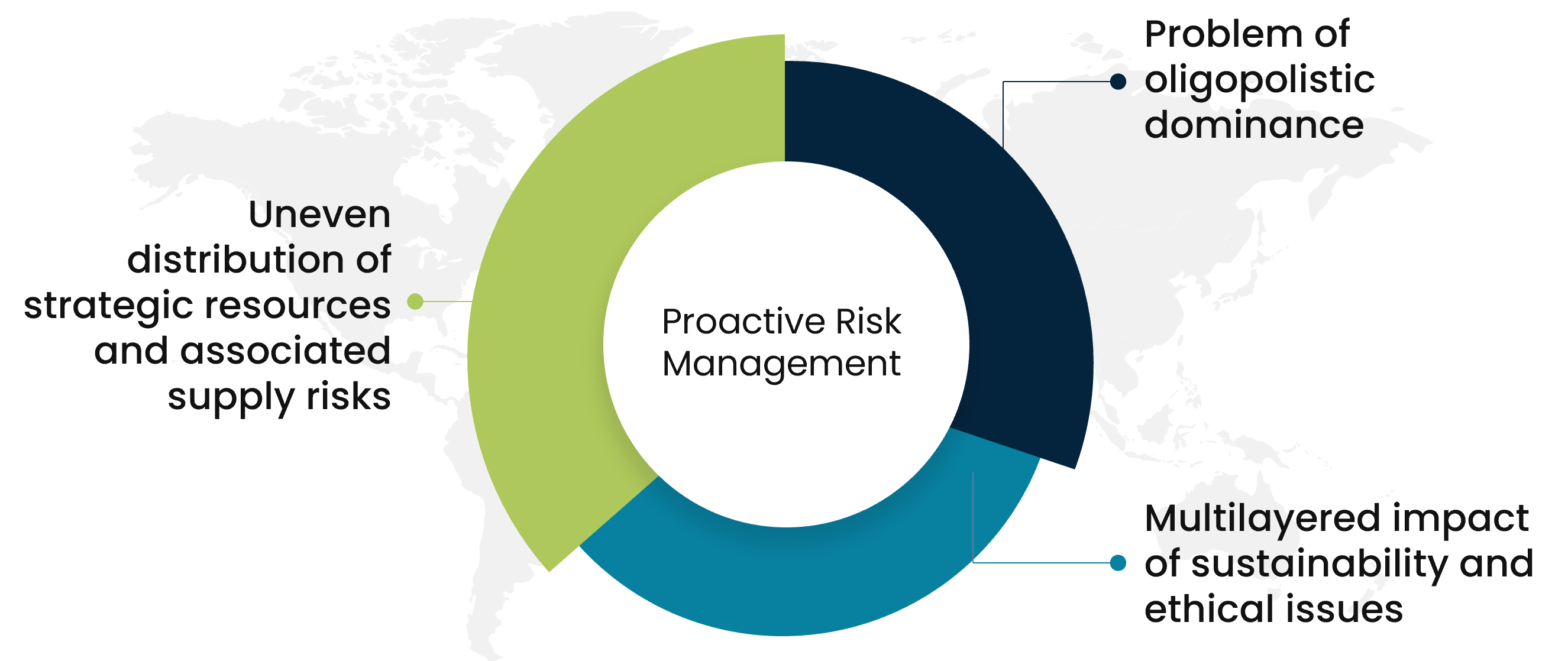 Uneven distribution of strategic resources and associated supply risks:
Concentration of critical raw materials in certain countries is a key issue hobbling faster development and proliferation of renewable energy projects worldwide. For instance, nearly four-fifths of solar-grade silicon, the most important ingredient of photovoltaic cells, comes out of China. Large offshore wind turbines use high-performance permanent magnets composed of rare earth elements (REEs), and China is again the source of up to 60% of the world's REEs. The remaining share of REEs was carved up between Australia, Burma, the US, and Thailand. In an age of political instability, geopolitical maelstroms, and trade wars, the risk of overconcentration, leading to supply disruptions and soaring prices, can't be overstated. These are certainly roadblocks for corporate renewable energy procurement.
Problem of oligopolistic dominance:
This links back to the previous idea about concentration of strategic resources in fewer hands. Renewable power's growth has also stimulated demand for associated equipment. However, a few large sellers continue to exercise significant influence over the market, raising daunting barriers to entry for new entrants. Take the case of the large hydro turbine sector. Nearly eight major manufacturers across Austria, China, Germany, Japan, Russia, and the US hold more than three-quarters of that market. Seven of the top-ten polysilicon producers are from China, and one each from Germany, South Korea, and the US. Chinese manufacturers boast up to 80% share of solar panel manufacturing, all the way from polysilicon to solar modules. More than 95% of the solar PV inverter market is in the hands 15-16 firms from China, Germany, Israel Japan, and Spain. Nine Chinese businesses together account for more than 70% of this market. Such oligopolistic markets typically result in reduced competition, increased cartelization, higher prices, and fewer choices for customers. Of course, these are disincentives for any renewable energy independent power producer procurement program.
Multilayered impact of sustainability and ethical issues:
Renewable energy is helping accelerate humankind's transition away from fossil fuels and toward zero-emission electricity. That said, rollout of new renewable energy plants is reckoned to cause some degree of environmental impact. Ironically, clean energy projects, including solar energy procurement, could potentially intensify the mining of raw materials like silver and aluminum used in solar panels and mounting frames. Heavy metal contamination of water bodies in Guatemala is believed to be the consequence of silver mining. Australian miners, meanwhile, have expanded their extraction efforts, displacing indigenous people. Procurement organizations in the renewable energy sector risk huge fines and legal action, apart from reputational damage, where their supply chain participants are caught on the wrong side of various ESG (environmental, social, governance) mandates. Such violations include the use of forced labor, compromise of worker safety, and involvement in environmental degradation.
The role of renewable energy procurement in business growth strategies
Businesses are under growing stakeholder pressure to take stock of their greenhouse gas (GHG) emissions, lower such emissions with every passing year, and publicly report the progress of their "greening" efforts and impact on the planet. Buying renewable energy under, say, a renewable energy independent power producer procurement program, is a sure-shot way to meet regulatory mandates, generate jobs in clean energy, boost community well-being, and improve the perception that significant others have about the company.
Why Choose SpendEdge?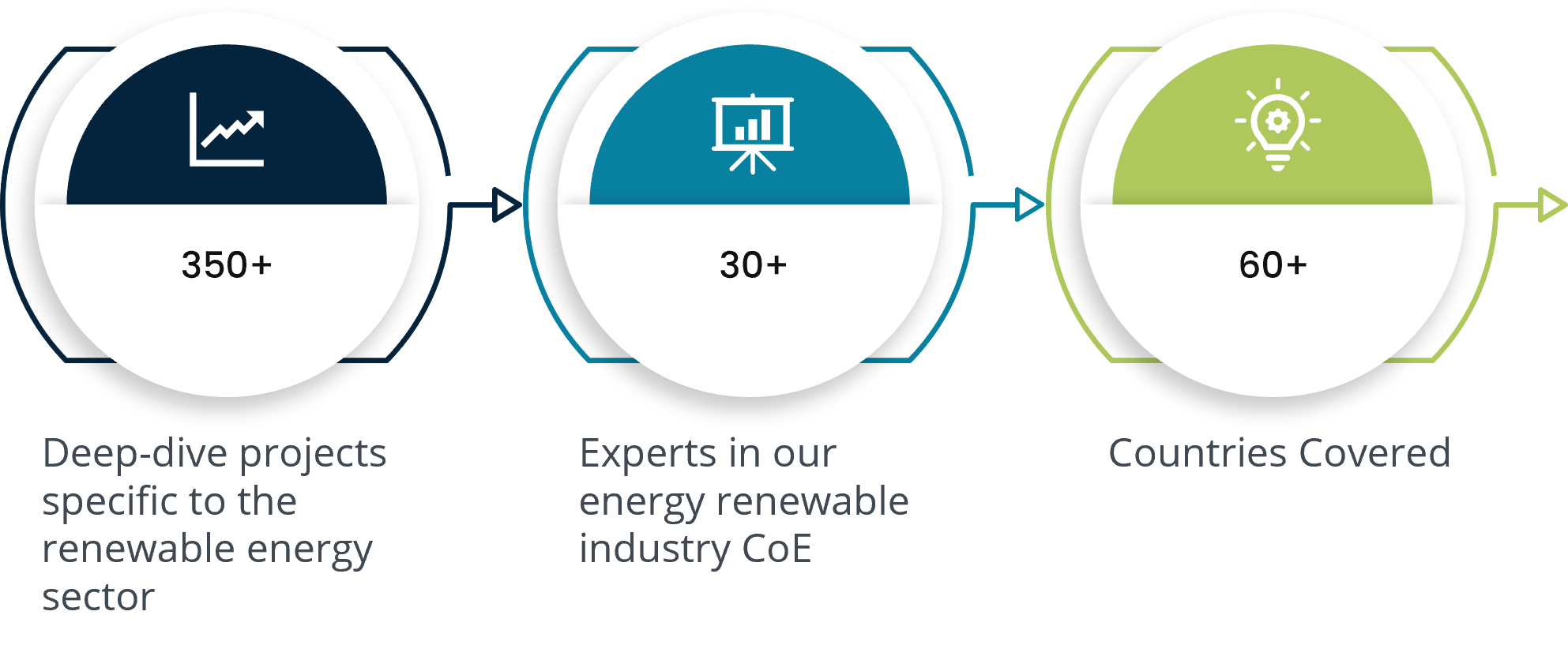 As previously discussed, renewable energy procurement promises a slew of compelling benefits for businesses across the three pillars of ESG. However, for these promises to fructify, buyers must stay clear of non-compliant, dishonest, fraudulent, and fiscally unstable suppliers. They might expose buyers to avoidable litigations and penalties, and, what's worse, sully carefully sculpted brand reputations. Plus, there is the operational downtime to consider. Our experts in corporate renewable energy procurement with more than two decades of hands-on experience help renewable energy buyers partner with suppliers who are committed to complying with all regulatory mandates, covering renewable energy generation and sales. Our supplier assessment framework is designed to measure the performance of potential supplies against various criteria (e.g., occupational hazard prevention measures, forced labor/child labor risks). At the same time, our category managers check out suppliers based on their innovative capabilities such as the use of software tools to bolster productivity. The overarching aim is to help CPOs derive the most value from their renewable energy spend by developing a clear perspective of renewable energy regulations, standards, and incentives and establish straight-line connections between them and procurement overheads.
Success stories: How SpendEdge transformed renewable energy procurement with market intelligence and cost savings
Our client is an automotive ancillaries manufacturer seeking to make significant investments in wind and solar energy with a view to decarbonize business operations expeditiously, benefit from various tax incentives, and maximize ROI. The business was referred to us by one of our longstanding clients, and after the necessary due diligence, the client began to work with our experts in corporate renewable energy procurement almost instantly. The key outcomes the client expected from our procurement experts included developing a deeper understanding of the renewable energy landscape for specific countries and, further on, identifying clients for long-term engagement. Our study considered the regulatory landscapes of six major geographic regions as well as 15 representative countries in each region for renewable energy procurement. Countries were scored based on their certifications (RECS, GoO, I-RECs, no certification). Within each region, countries were positioned based on renewable energy price capping and regulatory stringency. Furthermore, we estimated the share of renewable versus non-renewable energy sources for each of the previously mentioned country markets. The level of intricacy and the breadth of issues involved in purchasing renewable energy were also examined at a country level to identify the most suited country in each region for renewable energy procurement. Significantly, our experts also worked out the average unit price of renewable energy for each country market. Our study is serving as a baseline for the client to engage with renewable energy providers for the longer term in major geographic markets.
Trustworthy procurement intelligence is the negotiation chip renewable energy buyers looking to derive the most value from deals need. With years of experience in corporate renewable energy procurement, our experts can help you get the upper hand in supplier negotiations. So, contact us now.
FAQ
Why is renewable energy procurement important?
It provides significant benefits while helping businesses meet their energy requirements sustainably and reliably.
What are the potential cost savings associated with renewable energy procurement?
The transition to renewables will save costs for businesses while driving corporate reputation and saving the environment.
What are some challenges associated with renewable energy procurement?
Negotiating deals with vendors, lack of accurate insights and potent negotiation levers.
Author's Details
Ankur Rishi
Vice President, Sourcing and Procurement Intelligence
With more than 12 years of advisory experience, Ankur manages platform content and services within the sourcing and procurement vertical. Over the years, Ankur has provided consulting services to category leaders from chemicals, energy, and packaging industry, on varied topics, such as category strategy, spend analysis, commodity pricing, and clean-sheet analysis.