By: George Mathew
Metaverse, which is a virtual space where users can interact with others in real time in a computer-generated environment, is one of the innovations that have the potential to shape the entertainment industry. An overview of entertainment industry indicates that metaverse is still in its early stage, and its impact is yet to be fully realized. According to an entertainment industry analysis, entertainment in the metaverse is gaining popularity as it helps to create live events such as concerts and award shows, virtually. For this, players have to secure virtual venues, artists, and technological infrastructure to deliver an immersive virtual experience.
Recent trends in procurement solutions for media & entertainment industry
Use of blockchain and technologies such as AI and ML:
While technologies such as AI and ML can help in automating repetitive tasks, the ledger system of the blockchain technology ensures transparency. AI and ML also analyze large sets of data to help identify trends and patterns, thus enabling companies to make informed decisions.
Blockchain helps companies to track and verify transactions, thus reducing the risk of fraud and IP infringement. It can also streamline and expedite procurement processes as it helps eliminate middlemen, thus resulting in cost savings and increasing efficiency.
Adoption of cloud-based platforms:
The adoption of technologies such as AI, ML, and blockchain to streamline processes and improve efficiency has led to the generation of large amounts of data. This has made traditional on-premise procurement systems outdated and led to the adoption of cloud-based platforms. These platforms help multiple stakeholders such as suppliers and team members to easily manage and analyze large volumes of data. This improves scalability and flexibility, thus allowing companies to improve efficiency and reduce cost.
Focus on sustainable and social responsibilities:
With governments across the world focusing on green initiatives, the media and entertainment industry also has not remained untouched. The players in this industry are developing procurement solutions that can track and measure their sustainability efforts such as carbon emissions and waste reduction initiatives. Furthermore, companies are implementing ethical sourcing guidelines and tools to ensure that their suppliers adhere to fair labor practices and comply with environmental regulations.
Strategies for streamlined procurement in the media & entertainment sector
The growth of media industry has seen a shift from traditional broadcasting system to digital native streamers such as influencers creating user-generated content using their smartphones. Therefore, the focus is on entering into long-term partnerships with suppliers that offer innovative solutions and customized products or services. Streamlining procurement services by implementing strategies such as digital procurement platforms, fostering long-term partnerships, and emphasizing on continuous improvements can optimize their procurement operations.

Adoption of cloud-based platforms:
The F&B supply side is only as good as its weakest link, and verifying suppliers brings the much-needed assurance that supply-side operatives are indeed meeting various food quality control standards (e.g., Food Safety Modernization Act, FSMA). F&B businesses must perform a broad range of risk-based activities, covering ships, importers, and agents, to be double sure that all supply chain partners are in alignment with public health protection standards. They might also need to conduct on-site third-party audits. Control points in the F&B ecosystems, critical to food safety, must be under constant surveillance.
Push the frontiers of quality control technology:
According to entertainment market research, the focus on technology would help entertainment and media companies to streamline their processes and improve efficiency. These technologies include cloud-based platforms, data analytics tools, and e-sourcing solutions.
The adoption of data science in entertainment industry has enabled businesses to harness the power of data. Data science applications can provide valuable insights into supplier performance, market trends, and cost optimization. It also enables real-time data analysis, automation of tasks, improves supplier selection, anticipates market changes, and identifies potential risks and opportunities.
Facilitates benchmarking against competition:
The technology media and telecommunications industry is diverse and highly competitive. Therefore, understanding the specific requirements of different sectors, establishing strategic partnerships with suppliers, and negotiating contracts is vital. Furthermore, procurement professionals need to stay informed about industry trends, competitive landscape, and emerging technologies to make informed decisions. Such industry analysis facilitates benchmarking against competitors, thus enabling companies to stay ahead by adopting best practices and innovative procurement strategies.
Long-term partnership is key:
Another crucial aspect of streamlining procurement in the media and entertainment industry is a strategic relationship. A long-term partnership with key suppliers can improve communication, pricing agreements, and delivery schedule. It also aids in offering tailored solutions and innovative offerings.
Frequent performance review of suppliers can help identify areas of improvement and ensure suppliers align with the organization's goals. To achieve the above results, technology can be leveraged by offering real-time visibility into supplier performance.
Emphasis on continuous improvements:
Conducting regular supplier audits and engaging in dialogue with suppliers can promote collaborations, innovations, and mutual achievement of shared goals. This involves leveraging feedback from stakeholders and implementing best practices, and regularly assessing and optimizing procurement processes.
Such assessments can optimize procurement operations and ensure that media companies are well positioned to meet the changing demands of the audiences and gain a competitive advantage.
Why Choose SpendEdge?
The fast-evolving media landscape poses several challenges to the players while also offering growth opportunities. In this situation, SpendEdge can help identify market trends, understand supplier landscape, evaluate supplier capabilities, track technology innovations, and assess competitive landscape. We can also forecast demand and risks, which will aid in ensuring efficient procurement and sourcing.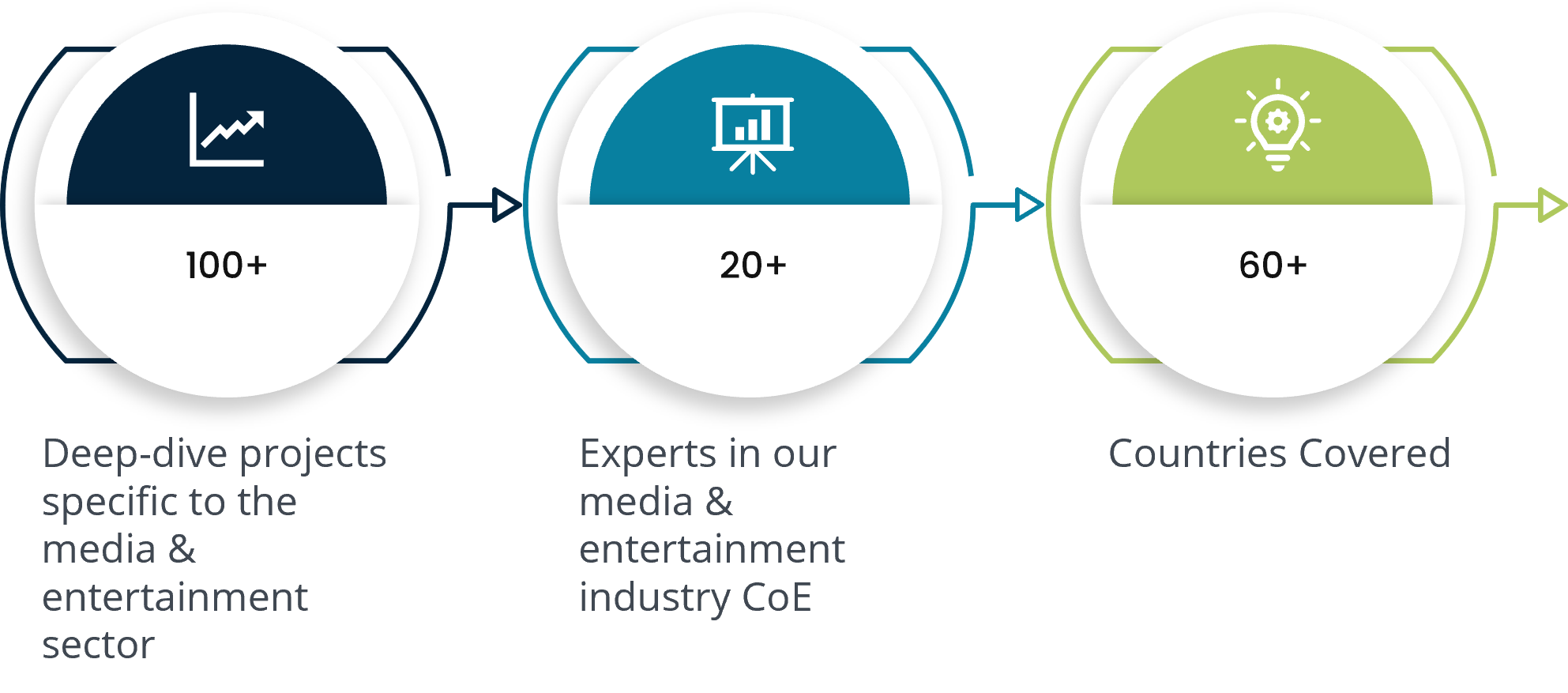 Understanding supplier landscape:
We conduct comprehensive research and analysis to gather insights on the supplier landscape and identify emerging technologies. This knowledge can empower media and entertainment businesses to align their procurement and sourcing strategies accordingly. We also offer an in-depth analysis of the supplier market, including their strengths and weaknesses, to identify suppliers that can offer high-quality products or services on time and within budget.
Track technology innovations:
With technology taking over almost every aspect of the media and entertainment industry, tracking innovations in this segment has become crucial. We track emerging technologies such as metaverse, augmented reality, and blockchain to provide insights into their potential and impacts. Using our insights, media and entertainment companies can make informed decisions about procuring these solutions to stay competitive, enhance operational efficiency, and deliver innovative experiences to customers.
Success stories: How SpendEdge helped media & entertainment clients to achieve business transformation with market intelligence and cost savings
A leading company in the media and entertainment industry approached SpendEdge seeking cost structure analysis, labor cost insights, and cost drivers. Following our research, we not only provided this information but also pricing models that were best suited for their needs and prices charged by their peers for the same services.
We started our research by creating a list of suppliers and gathering details of their operational and functional capabilities. Based on the details received through primary research, we conducted a peer benchmarking analysis and analyzed the cost structure for the services offered. Cost structure analysis included labor costs insights, which were calculated based on company-specific hourly internal billing rates and a comparative analysis based on the region it was provided.
We validated our findings by interacting with industry experts as part of our primary research. Based on the findings, our client was able to adapt its cost structure to a more competitive model and achieve its set goals.
Are you overwhelmed by technology disruptions, especially metaverse, and wonder if these are fad or solutions that would be the future of the industry? We can help you understand the technology landscape, along with the different digital procurement platforms available. Contact our experts.
FAQ
Why is media & entertainment procurement important?
Effective procurement ensures that the right resources are obtained at the right time and at optimal costs.
What is the potential cost savings associated with media & entertainment procurement?
Market intelligence and data analytics can identify cost-saving opportunities and streamline processes that can reduce administrative costs while improving operational efficiency.
What are some challenges associated with media & entertainment procurement?
Staying updated with emerging technology, solutions, and trends is one of the key challenges faced by players in the industry.
Author's Details
George Mathew
Associate Vice President, Sourcing and Procurement Intelligence
George is a procurement specialist at Infiniti Research and provides advisory services to clients across the pharmaceutical, CPG & FMCG, energy, and automotive sectors. He specializes in the procurement areas of industry benchmarking, cost modeling, rate card benchmarking, negotiation advisory, and supplier intelligence.