Solid waste management is a critical aspect of maintaining environmental sustainability and public health. While there have been significant strides in waste management practices, numerous challenges persist.
While the US government does not directly regulate waste, the Environmental Protection Agency (EPA) has developed federal recycling laws through what is known as the Resource Conservation and Recover (RCRA). RCRA establishes a comprehensive framework for the management of hazardous and non-hazardous solid waste. Under RCRA, the Environmental Protection Agency (EPA) sets standards for waste disposal, treatment, and recycling. Individual states and cities can create recycling goals or landfill bans of recyclable materials. However, the regulations vary widely across the country. According to the studies conducted by the US Dept of Energy and Last Beach Cleanup and Beyond Plastics respectively, the recycling rate for plastics in the US remained between 5% and 7%.
Challenges/Problems faced in solid waste management in the US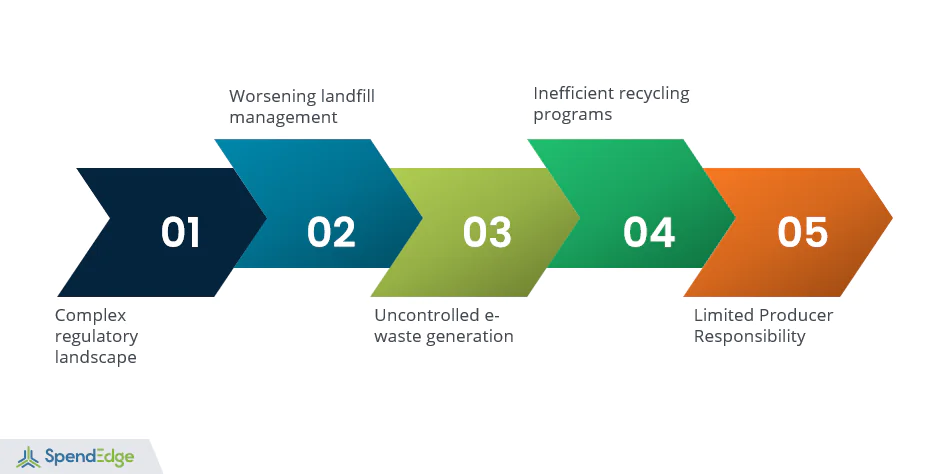 Complex regulatory landscape
One of the central issues undermining recycling in the US is the fragmented regulatory landscape. Recycling regulations are often set at the state or local level, resulting in a lack of consistency and clarity. The absence of standardized recycling practices across states and municipalities creates challenges in both collection and processing. Differing guidelines for acceptable materials, labeling, and sorting methods lead to contamination of recyclables and increased processing costs. This lack of uniformity makes it harder for recycling facilities to operate efficiently and cost-effectively. Regulatory changes are often triggered by crises, such as China's import ban on certain types of solid waste, rather than preemptive measures to anticipate and prevent challenges. US regulations failed to address the need for stable market conditions that incentivize recycling.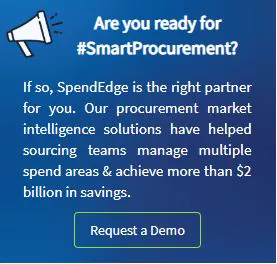 Worsening landfill management
One prominent challenge is landfill overflow. Despite regulations, landfills continue to receive a significant portion of solid waste. The US generates around 292 million tons of municipal solid waste annually, of which approximately 52% ends up in landfills. Recycling, an important aspect of sustainable waste management, faces challenges such as contamination and market volatility. The contamination of recyclables hampers the recycling process. For instance, single-stream recycling systems, while convenient, often lead to higher contamination rates.
China's National Sword policy, banning imports of certain recyclables, exposed the US vulnerability to market fluctuations. As a result, municipalities faced the predicament of finding alternative destinations for recyclables. Investments in waste management infrastructure have also contributed to the disparity. European nations have invested significantly in modern waste-to-energy facilities, efficient recycling centers, and advanced sorting technologies. These investments have created a more integrated waste management system capable of minimizing landfill reliance. In contrast, many areas in the US still rely on outdated landfill practices due to inadequate funding for innovative waste management solutions.
Uncontrolled e-waste generation
The proliferation of electronic waste (e-waste) poses another significant challenge. E-waste contains hazardous components, necessitating proper disposal. The US generates substantial e-waste, with an estimated 5 million tons generated annually. On average, the global e-waste generation has increased by 2 Mt annually over the last decade. Global electronic waste volume is projected to grow to 74.7 Mt by 2030. The Basel Action Network's (BAN) investigation unveiled illegal e-waste exports from the US to developing countries. Furthermore, the United Nations Sustainable Cycles Program identified that 5.1 million tons (just below 10 percent of the total amount of global e-waste, 53.6 Mt) crossed country borders in 2019. Of the 5.1 million tons, 1.8 million was shipped in a controlled manner, and 3.3 Mt of the transboundary movement is shipped in an uncontrolled manner or as illegal movements which poses a threat to managing e-waste. This stresses the need for enacting and enforcing responsible e-waste management policies and extending producer responsibility.
Inefficient recycling programs
The persistent use of plastics further complicates waste management challenges. Single-use plastics compound the issue. Plastic waste in the US has been on the rise for many reasons, including low recycling rates, population growth, consumer preference for single-use plastics, and low disposal fees. It is estimated that around 85% of plastics in the US end up in landfills, and the remaining 10% are incinerated. Furthermore, when plastics are recycled, about 30% of the material from a PET plastic bottle is discarded in the process. There are very few plastic recycling facilities in the US and considering the process in water intensive, there are limited plans for expansion of such facilities. China's ban on the import of certain types of solid waste, has significantly impacted global waste management dynamics. This ban, which came into effect in January 2018, disrupted global recycling markets, strained waste management infrastructure, and catalyzed changes in waste disposal practices.
Limited Producer Responsibility
In successful recycling systems, extended producer responsibility (EPR) programs hold manufacturers accountable for the life cycle of their products, including proper disposal and recycling. Limited producer responsibility refers to a regulatory approach where manufacturers have minimal obligations in managing the environmental impact of their products throughout their lifecycle. The US has been slow to adopt comprehensive EPR policies, resulting in a lack of financial incentives for producers to design products with recycling in mind. Extended producer responsibility (EPR) represents a more comprehensive and proactive framework, where manufacturers assume greater accountability for their products' environmental impact. EPR programs compel manufacturers to manage products from production to end-of-life, encompassing collection, recycling, and safe disposal. This approach promotes resource efficiency, reduces landfill reliance, and encourages the development of eco-friendly products. By shifting the responsibility from consumers and local governments to producers, EPR fosters a more circular economy, aligning with sustainable waste management goals and driving positive environmental outcomes.t
Conclusion
To address the challenges with solid waste management in the US, a multifaceted approach is imperative underscoring the need for concerted efforts in policy, technology, and public awareness. Increased investment in waste-to-energy technologies can reduce landfill dependence and produce renewable energy. Enhancing recycling infrastructure and educating the public on proper recycling practices is crucial. Finally, extended producer responsibility (EPR) programs can incentivize manufacturers to design products with end-of-life considerations.
European countries have embraced more stringent regulations and directives that prioritize waste reduction, recycling, and circular economy principles. The European Union's Waste Framework Directive and Circular Economy Action Plan exemplify this commitment. In contrast, US regulations like the Resource Conservation and Recovery Act (RCRA) have often fallen short of driving comprehensive waste reduction and recycling measures. The challenges with solid waste management in the US underscore the need for concerted efforts in policy, technology, and public awareness. Regulatory frameworks like RCRA provide a foundation, but practical implementation remains a challenge. Regulations like "The Green New Deal" could in future integrate recycling into its framework. Such regulations foster a circular economy that prioritizes waste reduction, resource efficiency, and environmental sustainability. This would involve incentivizing and supporting the development of advanced recycling technologies, modernizing recycling infrastructure, and implementing extended producer responsibility. Additionally, emphasis on job creation could lead to the expansion of the recycling workforce and the establishment of green jobs within the recycling sector. By learning from case studies, international regulations, and innovative solutions, the US can pave the way towards a more sustainable waste management system.