By: George Mathew
For businesses, it is crucial to manage procurement challenges effectively. These challenges may involve ensuring supplier reliability, controlling costs, complying with regulations, dealing with supply chain disruptions, and finding high-quality suppliers. Moreover, it is important to maintain good relationships with suppliers, ensure ethical sourcing, and adjust to changes in the market, as these ongoing concerns can significantly affect a company's procurement efforts.
The combination of globalization and regulation, along with insufficient investment in compliance and third-party risk management programs, makes it difficult to proactively identify and address supplier risks. Businesses that fail to confront this challenge risk having non-compliant products in their supply chain, which can lead to significant damage to their brand and reputation. The supplier management process has undergone a change, and a more efficient approach is required, with technology playing a significant role.
Top procurement challenges that CPOs can face
Lack of transparency: a big challenge
The lack of transparency in the supply chain arises from a lack of visibility and information-sharing throughout the journey of goods and services. This opacity can lead to numerous issues, including inefficiencies, ethical concerns, and increased risks. Without clear insights into the origins, processes, and actors involved, it becomes difficult to trace the environmental and social impact, ensure product authenticity, or respond effectively to disruptions. Addressing this challenge requires robust tracking and data-sharing mechanisms to enhance supply chain accountability, sustainability, and resilience, benefiting both businesses and consumers.
Better risk management: a requirement
Inadequate risk management processes stem from the failure to systematically identify, assess, and mitigate potential risks in various domains such as business, finance, or project management. When risk management is lacking, organizations are vulnerable to unexpected events or threats, resulting in financial losses, operational disruptions, or reputation damage. Effective risk management is crucial for informed decision-making and sustainable growth. Without it, organizations are ill-prepared to anticipate and respond to uncertainties, potentially jeopardizing their long-term viability and success. A robust risk management framework is essential for minimizing adverse impacts and ensuring resilience in today's complex and dynamic business environment.
Poor control and visibility on spending:
Poor control and visibility on spending arise when organizations lack a comprehensive understanding and oversight of their financial expenditures. This deficiency can lead to various issues, including budget overruns, financial waste, and an inability to allocate resources effectively. Without clear control and visibility, organizations may struggle to identify areas for cost optimization, track expenses, or adhere to budgetary constraints. This can have detrimental effects on financial stability and strategic planning, hindering an organization's ability to invest in growth or respond to changing market conditions. Establishing robust spending control mechanisms and enhancing visibility is crucial for informed decision-making and financial sustainability.
Inaccurate and unreliable data: a problem
Inaccurate and unreliable data revolves around the presence of inconsistent information in datasets. This issue can undermine decision-making, hinder analytics, and erode trust in data-driven processes. Inaccurate data can lead to flawed insights, misinformed strategies, and financial losses. Additionally, reliance on unreliable data can damage an organization's reputation and compliance efforts. Addressing this challenge demands rigorous data quality control, validation, and cleansing procedures to ensure that data sources are trustworthy and consistently accurate. It is essential for organizations to prioritize data accuracy and reliability to make informed decisions and drive successful operations and initiatives.
SpendEdge solutions: A better way for managing supply chain challenges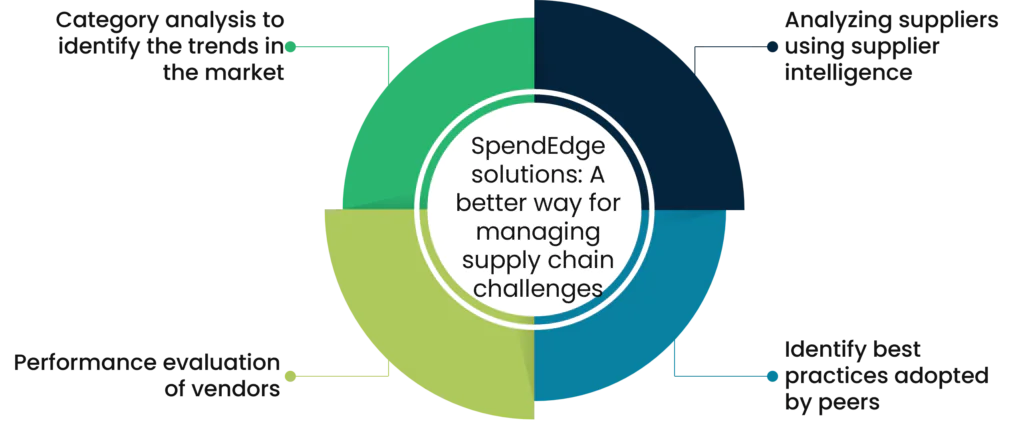 Category analysis to identify the trends in the market:
Leverage SpendEdge's expertise to gain a comprehensive understanding of the market for critical raw materials. We excel in tracking market trends, analyzing recent developments, and monitoring supplier strategies. Additionally, we identify potential risks that could impact your supply chain, enabling you to proactively mitigate disruptions.
Analyzing suppliers using supplier intelligence:
Utilize SpendEdge's supplier intelligence solutions to identify and evaluate the best-fit suppliers for your organization. Our in-depth analysis provides insights into supplier activities, including financial stability assessments. We also assess potential risks associated with current or prospective suppliers, ensuring a robust supplier base.
Performance evaluation of vendors
SpendEdge's analysts are experts at defining meaningful Key Performance Indicators (KPIs) and establishing Service Level Agreements (SLAs) with suppliers. We help you identify the most relevant KPIs to measure vendor performance effectively and develop SLAs that minimize supply-related risks, fostering supplier accountability.
Identify best practices adopted by peers:
SpendEdge specializes in benchmarking industry best practices for supplier relationship management. Our insights into how leading companies in your industry manage supplier relationships allow you to adopt and implement successful strategies, optimizing supplier interactions and enhancing supply chain resilience.
Success story: SpendEdge helping an automotive parts manufacturer
Our client is a US-based automotive parts manufacturer that has been sourcing plastic components from multiple vendors. Of late, they felt that there was a lack of transparency in the procurement process as they were unsure about the tier 2 suppliers providing raw materials to their vendors and the associated risks. Moreover, the lack of visibility led to delays in placing orders, which hampered the overall production process.
SpendEdge analysts conducted a detailed supply chain mapping that helped the client gain visibility into tier 2 suppliers. Additionally, a risk analysis covering various types of risks such as operational risk, financial risk, stability risk, cost pressure risk, industry risk, etc. was performed for the entire tier 1 and tier 2 suppliers.
With the help of supply chain mapping and risk analysis results, the client was able to proactively inform their tier 1 suppliers about potential supply risks and take necessary risk mitigation measures. Improved visibility on the supply chain also helped the client improve order placement for raw materials, thereby reducing delays in the production process.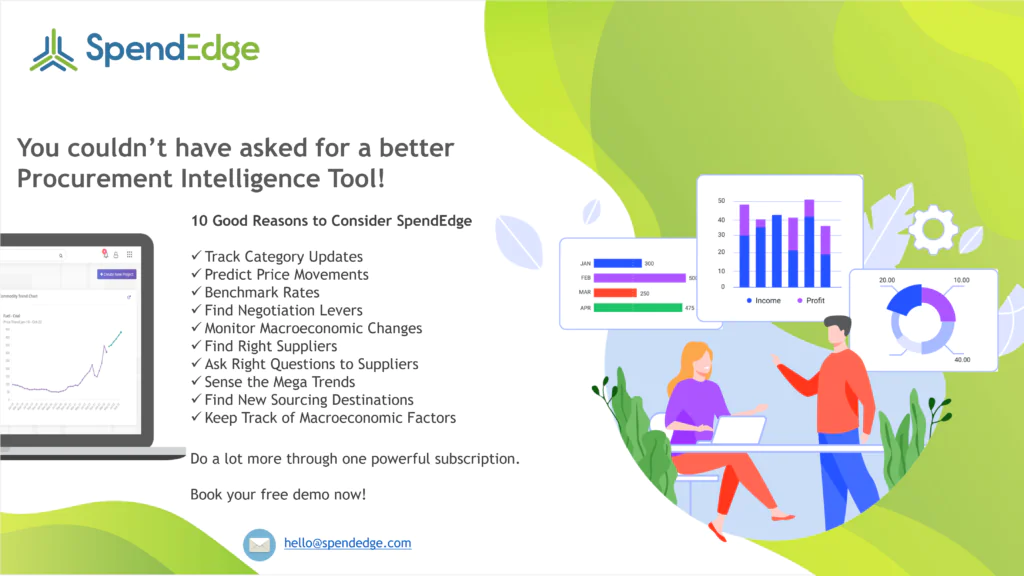 Contact us now to solve your procurement problems!
Author's Details
George Mathew
Associate Vice President, Sourcing and Procurement Intelligence
George is a procurement specialist at Infiniti Research and provides advisory services to clients across the pharmaceutical, CPG & FMCG, energy, and automotive sectors. He specializes in the procurement areas of industry benchmarking, cost modeling, rate card benchmarking, negotiation advisory, and supplier intelligence.