In the BFSI sector, the procurement process includes finding, assessing, and choosing trustworthy vendors and suppliers that can offer the products and services needed by the BFSI organizations. To ensure a steady supply of goods and services, there is a need for supplier appraisals, negotiate contracts, and develop long-term relationships. The financial sector is highly regulated and faces various compliance and security challenges. Procurement teams must ensure that vendors comply with regulatory requirements and adhere to security standards to mitigate potential risks related to data breaches, fraud, or non-compliance. Additionally, technology plays a critical role in financial services. Procurement in this sector often involves acquiring software, hardware, and IT services.
Challenges/Problems faced in the financial procurement process
Complex regulatory environment
Upsurge in regulatory stringency has been standing as one of the major challenges when it comes to procurement by financial services institutions as the regulations continue to be strict over the past two decades. It has become important for the procurement teams of financial institutions to use market intelligence to meet compliance mandates. The sourcing organizations need to navigate through latest laws and complex regulations involving multiple stakeholders to smoothly run the procurement function with zero disruptions.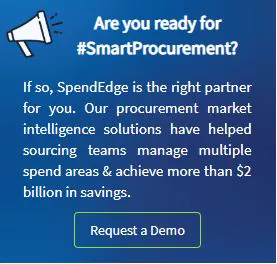 Rapidly progressing technology landscape
As new technologies emerge, integrating them with existing systems and ensuring compatibility can be complex and time-consuming. Procurement teams need to carefully evaluate and select technologies that seamlessly integrate with their current infrastructure. With the increasing use of technology, the risk of cyber threats and data breaches also rises. Procurement professionals need to prioritize security measures and ensure that the technologies they procure comply with industry regulations and best practices for data privacy. To overcome this challenge, procurement teams should stay updated on technological advancements, and engage in strategic partnerships. By doing so, they can navigate the evolving technology landscape and leverage its potential benefits.
Availability of a wide variety of products and services
The availability of a wide variety of products and services can indeed present challenges for procurement processes. Each product or service might come from a different vendor or provider. Managing relationships, negotiating contracts, and ensuring consistent quality from a diverse range of vendors can be a resource-intensive task. The financial industry is highly cost sensitive. With many choices available, finding the right balance between quality, functionality, and cost can be difficult. To address this, financial institutions should implement robust procurement processes that involve careful needs assessment, comprehensive vendor evaluation, risk assessment, and ongoing monitoring of selected vendors and their offerings.
How SpendEdge can help the industry in overcoming the financial procurement challenges:
Extensive knowledge on the global regulatory environment
You will be able to understand the regulatory environment globally and bring in learning from other regions with the help of our regulatory environment insights. Gain deep insights into the legal scenario to make informed decisions to comply with legislation while nimbly responding to market changes and staying profitable. Centralize supply-side datasets from across teams and manage quality records to help stakeholders focus on the bigger picture of the latest laws and regulations for improved decision-making and data security. Make the centralized data the basis to compute risk levels for various supply scenarios as well as anticipate and forestall uncertainties.
In-depth understanding of the technology landscape
SpendEdge provides a greater knowledge of the technology landscape and is constantly evaluating nascent technologies and their impact. We provide you with information about the updated and upgraded technologies that have been introduced to the technology market with the aid of our analysis. Our special insights on the emerging trends of technologies will help you enhance your procurement function. New technologies are revolutionizing financial services, from blockchain to AI. The sheer amount of data and technological options can be considered intimidating for the procurement teams and we ensure the availability of this changing valuable information to the industry in a readily actionable format
Helps in narrowing best-fit solutions
The best solution for ensuring the availability of a wide variety of products is selecting the best-fit vendor who can promise the feasibility of a variety of services and products. Our expertise will help you in identifying the vendors, you can narrow down the potential supplier base by clearly defining business outcomes. We will help you sift through the pool of suppliers to effectively understand the available options. Streamline your search to include only suppliers that can meet all or most requirements. You can sort suppliers into quadrants based on product or service quality capabilities
The SpendEdge success story
A well-known Bank with global operations headquartered in the EU got in touch with SpendEdge as they were wanting to understand if a homebrewed IT solution would offer better value as opposed to a whitelabel one.
Our expertise in market intelligence helped the client by analyzing the nuances of in-house software development, the cost, potential risk, timeline overages, cost of retaining a support team, etc. vs. the solution offered by a whitelabel supplier. The company was able to understand the total cost ownership over the long run, and the associated complexity in implementing each solution.
Our analysis and recommendations helped the company to choose the right solution for its procurement problem.