Streamlined logistics: Unlocking success through effective transportation procurement
The transportation industry serves as a vital cog in the wheel of global commerce, facilitating the seamless movement of goods and individuals across extensive geographical distances. As the industry undergoes continual transformation, the significance of procurement practices and strategies has grown significantly, empowering organizations to streamline operations, curtail expenses, and maintain a competitive edge. In this article, we delve into the latest procurement trends and strategies within the transportation sector, shining a light on pivotal aspects such as technological integration, sustainability initiatives, supplier relationship management, and supply chain optimization. By comprehending and embracing these emerging trends, transportation companies can adeptly navigate the intricate realm of procurement, unearthing fresh avenues for growth and triumph amidst a rapidly evolving landscape.
Resolving challenges in transportation procurement with innovative solutions
Challenges faced:
Cost management:
Transportation procurement professionals face the challenge of managing costs in a dynamic market. They need to analyze and forecast transportation costs based on factors such as fuel prices, labor rates, and market demand fluctuations.
Capacity constraints:
Sufficient transportation capacity is a challenge that arises due to the imbalance between supply and demand, especially during peak seasons or in regions with limited carrier availability. Advanced capacity planning and collaboration tools, such as transportation management systems and freight marketplaces, can assist in identifying and securing available capacity in real-time.
Carrier relationships:
This involves evaluating carrier performance, negotiating contracts, and ensuring reliable service. Utilizing carrier relationship management systems and implementing key performance indicators can help in measuring and improving carrier performance.
Innovative procurement solutions: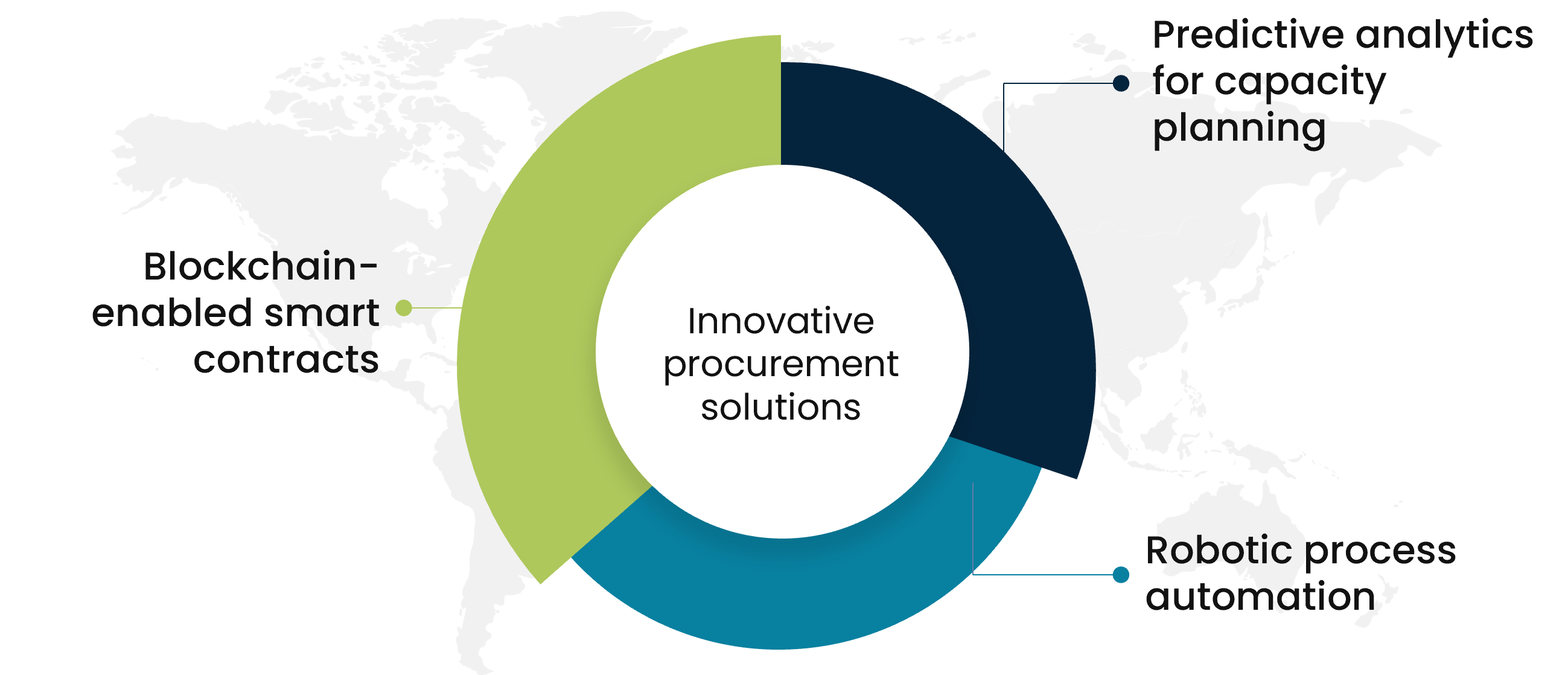 Blockchain-enabled smart contracts:
Blockchain technology can be leveraged to create smart contracts for transportation procurement. These contracts can automatically trigger payment transactions, validate carrier performance data, and enable real-time tracking and visibility of shipments. The decentralized and immutable nature of blockchain ensures transparency, trust, and efficiency in the procurement process.
Predictive analytics for capacity planning:
Predictive analytics techniques, such as time series forecasting and demand modeling, can be applied to historical data on transportation requirements to predict future capacity requirements. By analyzing shipment volumes, seasonal patterns, and market trends, these models can provide accurate forecasts of transportation needs.
Robotic process automation:
RPA involves the use of software robots and bots to automate repetitive and rule-based tasks in transportation procurement. By eliminating manual efforts and human error, RPA improves process efficiency, reduces cycle times, and allows procurement professionals to focus on strategic activities.
Strategic management for maximizing results in transportation
Stakeholder engagement:
Organize the stakeholder engagement in a way that every stakeholder can put up their suggestions for the betterment of the organization's decision-making. Collaboration and communication are crucial for successful strategic management. Stakeholders are the resources of a company that is to be optimally used to get beneficial ideas for growth and expansion. Engage with key stakeholders such as government agencies, transportation providers, community organizations, and the public.
Data and analysis:
Collect and analyze relevant data to understand current transportation patterns, identify bottlenecks, and evaluate the effectiveness of existing systems. This data-driven approach will help inform decision-making and prioritize interventions based on objective evidence.
Integrated planning:
Procurement stakeholders should develop an integrated plan that involves various modes of transportation, including roads, public transit, cycling infrastructure, and pedestrian pathways. A comprehensive approach that promotes multi-modal connectivity and seamless intermodal transfers is key to an efficient transportation system. The plan should be established so that each mode of transportation is utilized in the best way possible by upgrading the facilities provided, and changes in the connectivity system.
Sustainable and Resilient Infrastructure:
Sustainable modes of transportation are the future of the transportation industry as the protection of the environment has been an important consideration for businesses across industries. The harmful gases that are emitted by vehicles are the core problem of environmental pollution. Procurement stakeholders should look to connect with transportation companies that offer solutions that reduce environmental impact, such as managing a fleet of electric vehicles.
Spend Edge: The one-stop solution
Spend Edge is a marketing intelligence company that specializes in procurement marketing intelligence. We offer services to various industries, including transportation and logistics, energy and utilities, oil and gas, banking, financial services, and insurance.
Invest in supply chain market intelligence:
We develop supply chain market intelligence for you to get updates about your delivery networks that will ease your transportation requirements, and help you identify and plug inefficiencies in time.
Alerts on supply-side performance efficiency:
Get alerts in advance on supply-side performance efficiency on your transportation assistance and unplanned events that can upend your delivery chain and could result in financial and reputational loss.
Details of supply chain metrics and patterns:
We provide you with benefits from dashboard overviews and details of supply chain metrics and patterns. Also, we help you in discovering opportunities to improve transportation processes and drive efficiency while containing risks.
Collaboration with supplier base:
To ensure you the right balance of price, reliability, and skillsets to co-script innovation and win high-value transportation deals, we help you deepen your collaboration with an experienced transportation supplier base.
Track sustainability efforts:
We help you to get real-time insights on daily transportation supplier processes by tracking sustainability efforts continuously as the transport industry is shifting towards sustainable trade practices.
Success story: How we helped client with transportation procurement
The transportation industry has always struggled with a lack of visibility into their supply chain, never more so in today's world of hyper-communication and exorbitant amounts of data being created daily. To tackle this, the players need to have complete knowledge about their delivery networks, plugging inefficiencies, and more!
Along the same lines, a UK-based organization connected with our experts to leverage our knowledge in transportation procurement. Not only was it facing unplanned events resulting in loss of revenue, but the client also wanted to invest in supplier and supply market intelligence to ensure smooth and expedited deliveries.
The client needed to find the cause for excess logistics spending, fine-tune their routing, centralize procurement, and consolidate shipments to effectively shift gear from low-end projects to high-hanging fruits. They were seeking assistance in understanding supply chain metrics and patterns to avail themselves of its benefits. Finding opportunities to enhance procedures and promote efficiency was another significant difficulty the client had to deal with.
Our experts after a detailed analysis of the challenges faced by the client had suggested pinning down areas of excess logistics spending and significantly paring through insights-based approaches to fine-tune routing, centralize procurement, and consolidate shipments. Our specialists gave the client precise information regarding supply chain metrics and patterns and the client could access available delivery networks through our supervision. The client was able to discover opportunities to improve its processes and drive efficiency while managing the risk entitled to it. Our expertise aided the client as they got specialized alerts on unplanned events and supply-side performance efficiency in advance. The client was satisfied with the outcomes as the suggestions given by our experts proved to be great prospects for the client's business and they achieved excellence in their transportation services.
Get to use all the transportation procurement services by connecting with us.

FAQ's
What is transportation procurement?
Transportation procurement refers to the process of acquiring transportation services and selecting transportation providers for the movement of goods or passengers.
What is the role of transportation in purchasing?
Transportation is an integral part of the supply chain that enables the movement of goods from suppliers to customers.
What is the transportation Industry supply chain?
The transportation industry supply chain refers to the interconnected network of activities, processes, and entities involved in the movement of goods and passengers from their origin to their destination within the transportation sector.
Author's Details
Vinodh Kumar Kshathriya
Associate Vice President, Sourcing and Procurement Intelligence
Vinodh manages a research team within Infiniti Research, working closely with some of the largest (Fortune 500 included) clients from the pharma, energy, F&B, and defence sectors. With a total of 16 years of experience in research and client services, he has majorly worked on solving business queries through various analysis including market, financial, risk, costing, etc.