By: Ankur Rishi
The procurement process for the paint and coating industry is challenging as it involves a lot of risks that can result in disruptions in the supply process. Benzene, toluene, chlorinated solvents, xylenes, styrene, PAHs, and aromatic azo dyes are the common components of any paint. It is essential to confirm the quality of the raw ingredients, chemicals, additives, and packaging materials needed to produce paints and coatings before engaging with any supplier. It entails locating dependable vendors who can deliver premium additives and chemicals at reasonable costs. The procurement process in the paint and coatings sector must carefully consider supplier selection. Potential suppliers must be assessed by businesses based on criteria such as product quality, dependability, delivery capabilities, and adherence to industry laws. Several developments in the paint and coating industry have made the process easier by establishing and implementing strategies.
Challenges faced by the paint and coatings industry during procurement
Lack of cost-effective suppliers:
A fundamental problem is the rising costs of raw materials, and one of the most expensive components of paint is dyes. Finding suppliers who offer the highest quality paint pigments at competitive prices is a challenge for the paint and coating business. It is important for companies to carefully evaluate their supplier options and explore strategies to mitigate this challenge, such as negotiating better pricing agreements or seeking alternative suppliers. The company must conduct thorough market research to identify potential suppliers and foster relationships with existing suppliers to negotiate better pricing terms.
Quality control:
The paint business must maintain a constant quality for each material that is procured because alteration in the materials can impair the quality of the paint that is produced. The buying organization must seek suppliers who uphold a consistent level of quality throughout the partnership. Formulations for paint and coatings frequently call for a blend of many raw materials, including pigments, binders, solvents, and additives. These materials' quality can differ from one supplier to another, which can cause irregularities in the finished product. To guarantee the required quality, it becomes imperative to create tight quality standards and carry out extensive testing.
Lack of regulatory adherence:
As the materials like acetone, toluene, xylene, and EDT procured are hazardous chemicals, procuring these comes up with a challenge of several regulatory guidelines and adherence to them is mandatory. These regulations include standards aimed at ensuring the safety of products, protecting the environment, and safeguarding the health of workers and consumers. Staying up to date with the latest requirements and ensuring that suppliers also comply with them can be a daunting task. This may involve monitoring changes in regulations, conducting thorough due diligence on suppliers, and establishing clear communication channels to address any compliance concerns.
How your business can benefit from SpendEdge intelligence and solutions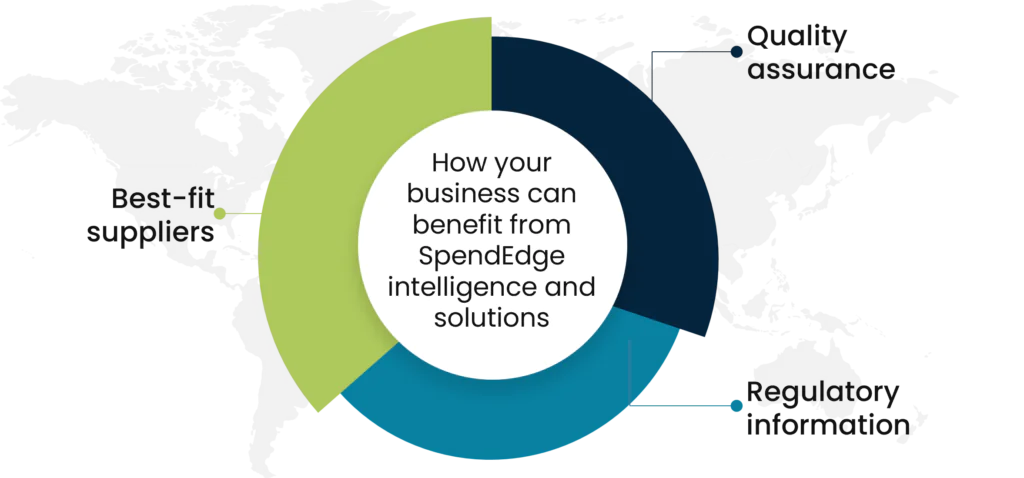 Best-fit suppliers:
Our methodology for narrowing down suppliers goes beyond historical filters like revenue and profits, performance, and service quality to find vendors who can bring the desired quality of materials. We streamline your search to include only suppliers who can meet all your requirements including providing the best competitive price for expensive pigments and EDT even in times of volatile market conditions. You can identify criteria that are crucial for the supplier to possess and can gauge supplier capabilities on these criteria. We help you sort suppliers into quadrants based on operational and functional capabilities and then rank them to help you identify the best-fit suppliers.
Regulatory information:
Chemicals like acetone, toluene, EDT and other hazardous chemicals are subjected to strict regulations and rules, and there are constant revisions to these regulations. Our experienced analysts assist you in comprehending the laws specific to your production process and keeps you up to date on the most recent and local laws related to critical raw materials. As most restrictions pertain to the transportation of hazardous substances, doing this will help you avoid supply chain disruptions. We also assist in narrowing down the pool of potential suppliers based on their history of compliance and provide best practices that can help to resolve typical compliance problems.
Quality assurance:
You can identify suppliers who can confirm a standard quality for the solvents, binders, and additives every time you want to procure these materials. Equip yourself with essential know-how on recent supplier market developments so that you won't miss out on any information about quality improvements. Devise sound strategies to ensure the best quality from the suppliers and gain comprehensive intelligence on risks facing the supplier landscape. Improve supplier negotiations with valuable insights into prevalent market conditions. You can set up some quality standards for your suppliers with the aid of our information. Sustainable material is an emerging trend, and with the help of our supplier intelligence, you can identify suppliers that give high importance to sustainability in their business.
Success Stories: How SpendEdge helped a paint company enhance procurement function
Procurement in the paint and coating industry is fraught with several challenges, particularly due to inflated prices that impact procurement costs. To address these challenges, paint companies are acknowledging the need to implement measures that can ensure greater visibility on costs and renegotiate with suppliers for more favorable pricing terms.
In a similar vein, a paint and coating company knocked on the door of SpendEdge. They sought to alleviate the impact of increasing chemical costs and decrease inflationary pressures. They were also not happy with the quality of dyes procured from their current vendor as it degraded with time and wanted SpendEdge to help them identify alternate suppliers.
Our expertise enabled the client to identify the vendors who charge competitive prices for the materials procured. Our analysis of the past performance of the suppliers helped the company to ensure that the quality provided is never compromised. In addition, our team also provided information about the latest regulations pertaining to the raw materials and helped assess the suppliers that complied with these regulations.
The client was incredibly pleased with the results of our recommendations as they were able to achieve a smoothly functioning procurement process.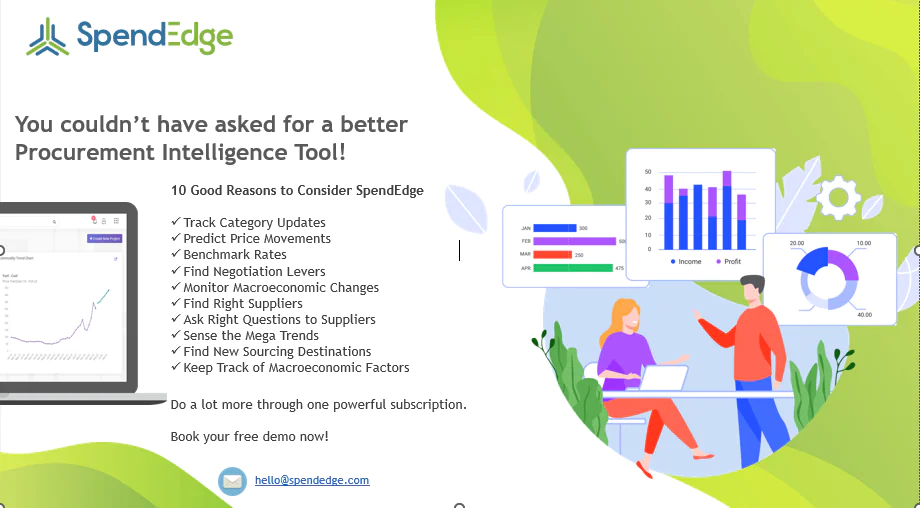 Click here! to address your procurement problems
Author's Details
Ankur Rishi
Vice President, Sourcing and Procurement Intelligence
With more than 12 years of advisory experience, Ankur manages platform content and services within the sourcing and procurement vertical. Over the years, Ankur has provided consulting services to category leaders from chemicals, energy, and packaging industry, on varied topics, such as category strategy, spend analysis, commodity pricing, and clean-sheet analysis.