By: George Mathew
Procurement is the process of acquiring goods or services needed by an organization. It involves sourcing, purchasing, and managing suppliers to meet operational and strategic objectives efficiently and cost-effectively. In the field of business, procurement plays a crucial role in staying competitive in this dynamic world. Companies are perpetually in search of methods to enhance their procurement activities and optimally utilize their assets. Procurement encompasses vital components such as sourcing suppliers, selecting vendors, negotiating contracts, making purchases, managing supplier relationships, integrating with the supply chain, mitigating risks, and controlling costs. It's a comprehensive process pivotal for organizations to efficiently acquire goods and services. Procurement offers several benefits, including cost savings, improved supplier relationships, enhanced quality control, supply chain efficiency, risk mitigation, and strategic alignment with organizational goals. These advantages contribute to greater competitiveness and sustainable growth.
Procurement trends to enhance the acquiring process for businesses
Rising focus on sustainability to shape a safe future:
The significance of sustainability has surged in the business landscape and will grow even more crucial. Business procurement teams can consider the environmental impact of the products and services they source. Due to the impact of the pandemic, companies are now sourcing organic or green materials to meet the shift in consumer behavior towards sustainable products. This has resulted in evaluating suppliers' sustainability efforts, including the usage of renewable energy and waste reduction, to ensure the production of safe products. Procurement units can pinpoint environmentally conscious suppliers to harmonize with the company's sustainability objectives.
Optimum use of technology to amplify the procurement in businesses:
In recent years, technology adoption in procurement has been steadily enlarging. Procurement teams of different business backgrounds are increasingly turning to software and automation solutions to optimize their operations, encompassing e-sourcing, e-procurement, and contract management. Furthermore, the integration of artificial intelligence (AI) and machine learning (ML) is poised for greater prominence. These cutting-edge technologies offer invaluable insights by detecting patterns and irregularities within procurement data, empowering teams to make data-driven choices. With the aid of these solutions, it has been easier in supplier vetting, contract administration, and risk mitigation, enhancing the overall procurement landscape.
Focus on improvement of supplier relationship management to strengthen vendor-customer relations:
To ensure the continuous flow of required materials and equipment from vendors it is necessary for the companies to have a healthy relationship with the suppliers. These days, the procurement teams are concentrating on developing strong vendor relationships through effective supplier relationship management. Achieving this necessitates consistent communication, collaboration, and feedback mechanisms. Procurement teams foster close partnerships with suppliers to unearth innovation and cost-saving prospects. This is done by implementing a strategic supplier selection and management strategy. By cultivating strong ties, procurement teams proactively address potential challenges before they escalate into substantial issues.
Optimal solutions provided by SpendEdge to improve the procurement function for businesses
---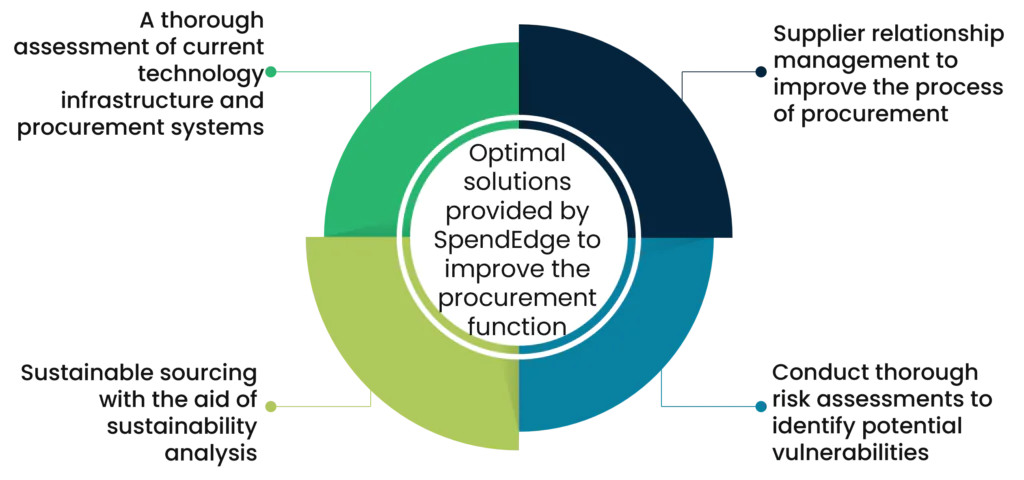 ---
Sustainable sourcing with the aid of sustainability analysis:
Our supplier sustainability analysis can help companies Identify modern sustainability practices adopted globally and in geographies specific to your company's operations. Sustainability practices such as determining eco-friendly materials, biodegradable products, recyclable packaging materials, and services that reduce the carbon footprint and minimize waste. With our supplier analysis and updates businesses can assess the sustainable strategies followed by different suppliers in their particular vendor networks to select the best-fit sustainable supplier. Companies can identify the sustainability gaps between globally adopted sustainable strategies and the strategies implemented by the available suppliers to make the right decisions.
A thorough assessment of current technology infrastructure and procurement systems:
SpendEdge offers an in-depth examination of an organization's current technological foundation and procurement systems. This comprehensive assessment encompasses the evaluation of existing software, hardware, and digital tools, enabling the identification of areas that require technological upgrades or enhancements. Our expert analysis delves into the complexity of your technology infrastructure, pinpointing opportunities for optimization, increased efficiency, and alignment with evolving business objectives. We provide actionable insights to ensure that your organization's procurement systems are not just current but poised for future success in an ever-evolving digital landscape.
Conduct thorough risk assessments to identify potential vulnerabilities:
We perform comprehensive risk assessments aimed at uncovering potential vulnerabilities within your procurement process. Our expertise extends to evaluating an array of critical factors, including but not limited to supply chain risks, supplier performance metrics, market volatility dynamics, geopolitical influences, and adherence to regulatory compliance. Our analysis empowers your organization with a holistic understanding of potential pitfalls, enabling strategic mitigation measures to fortify your procurement operations against unforeseen challenges and disruptions. Companies can utilize our risk scores to prioritize high-impact risks and resolve them before they can cause damage to the operations.
Supplier relationship management to improve the process of procurement:
We assist businesses in establishing successful supplier relationships by locating the top suppliers on the market so that the businesses may have a clear idea of how the suppliers operate before they place an order. We carry out supplier evaluation and selection processes and provide insights into the current supplier market trends so that companies can develop criteria for assessing potential suppliers. Our due diligence in the vendor onboarding process ensures that chosen suppliers meet quality, ethical, and sustainability standards throughout the supplier-customer relationship.
Success Story of How SpendEdge helped one of its clients
The client:
Our client is a food manufacturing company based in France that deals in the production of a wide variety of fast foods. As they deal in manufacturing various food varieties procurement plays a vital role in this industry, they procure different food raw materials from globally operating suppliers.
The challenge:
Our client encountered a number of challenges, such as fragmented procurement procedures, inefficiencies, and an absence of clarity in spending. As a result, our client had trouble keeping track of supplier performance, which led to problems with quality and supply chain disruptions. Moreover, the organization lacked a systematic approach to sourcing, which resulted in missed opportunities for cost savings.
The solution:
Our experts at SpendEdge established a supplier scorecard system, enabling the client to assess supplier performance in real time, identify supplier risks, and implement corrective actions to mitigate these risks on time. We also helped the company in the development of category-specific sourcing strategies, leveraging volume discounts, and consolidating suppliers wherever it was feasible.
The impact delivered:
Our client has experienced a notable improvement in supplier performance scores by 25%, reducing quality issues and supply disruptions. Suppliers became more reliable, responsive, and aligned with the company's quality and delivery standards. This, in turn, reduced the risk of production disruptions and enhanced overall product quality.
Author's Details
George Mathew
Associate Vice President, Sourcing and Procurement Intelligence
George is a procurement specialist at Infiniti Research and provides advisory services to clients across the pharmaceutical, CPG & FMCG, energy, and automotive sectors. He specializes in the procurement areas of industry benchmarking, cost modeling, rate card benchmarking, negotiation advisory, and supplier intelligence.