By: George Mathew
Intelligent procurement refers to the process of managing all aspects of a company's spending on vendors in a single digital platform. This enables companies to have a comprehensive overview of their vendor-related expenses. By implementing intelligent procurement, companies can have a better understanding and control over their spending.
Procurement can become intelligent through the integration of advanced technologies and data-driven strategies. Leveraging artificial intelligence, machine learning, and data analytics, organizations can optimize their procurement processes. AI can automate routine tasks, predict demand, and identify cost-saving opportunities, while machine learning can enhance supplier selection and performance monitoring.
Additionally, data analytics can provide valuable insights into supplier behavior and market trends. Intelligent procurement also involves fostering collaboration and communication among stakeholders, both internally and externally. By harnessing these technologies and fostering a culture of innovation and agility, procurement can evolve into a more intelligent and strategic function, driving efficiency and cost reduction.
Intelligent procurement functions that can help organizations
Sourcing: Supplier selection by supplier evaluation
Selecting the right suppliers can be a complex process, but AI can make it easier. By evaluating suppliers based on predefined criteria such as pricing, delivery times, quality, and sustainability, AI can help you quickly determine the best suppliers in a single chat session. Generative AI takes this a step further, optimizing the bidding process and even auto-creating RFX documents. It can also analyze supplier responses and determine the best combination of suppliers to optimize pricing. Additionally, AI can simplify supplier onboarding by automating data verification and document processing, leading to a smoother user experience.
Vendor management and payments:
AI technology can provide valuable assistance to procurement professionals in identifying potential risks and legal language issues in contracts, as well as ensuring compliance. Through the use of generative AI, contract managers can access data from multiple sources and perform complex cross-cube queries. In addition, AI can simplify the process of guided buying, transforming the buyer experience into an interactive request where questions and answers can lead to auto-generated and compliant purchase requisitions. Furthermore, AI can help to evaluate supplier performance against agreed service levels and facilitate the negotiation and management of contractual agreements, ultimately minimizing potential pitfalls and ensuring successful procurement outcomes.
Spend analysis: Easy analysis of companies' spend
Simplifying the interpretation of spending data, procurement can harness the power of generative AI to pose inquiries in plain language and extract meaningful insights from their expenditure records. For instance, they can swiftly pinpoint savings by specific categories within a particular region or business division. Additionally, AI can seamlessly access real-time data and tap into external intelligence sources to provide accurate predictions regarding future demand and spending patterns. This predictive capacity empowers procurement professionals to make highly precise, data-driven decisions, thereby enhancing their strategic planning and cost optimization efforts. Ultimately, the utilization of generative AI in procurement streamlines data analysis and drives improved decision-making processes.
Managing risks with intelligent procurement:
Artificial intelligence presents an efficient means of enhancing risk management within procurement. It achieves this by maintaining an ongoing assessment and surveillance of potential risks linked to suppliers and supply chain collaborators. This proactive approach equips procurement teams with a deeper comprehension of supplier vulnerabilities, enabling them to adopt preventive measures to pre-empt potential disruptions. In the event of a supply chain disruption, AI-driven automation comes to the rescue by suggesting alternative, pre-screened suppliers. This capability not only expedites responses to supply chain challenges but also instills resilience and adaptability into the business's procurement strategies, safeguarding against unforeseen disruptions and bolstering overall supply chain reliability.
How can SpendEdge help in intelligent procurement?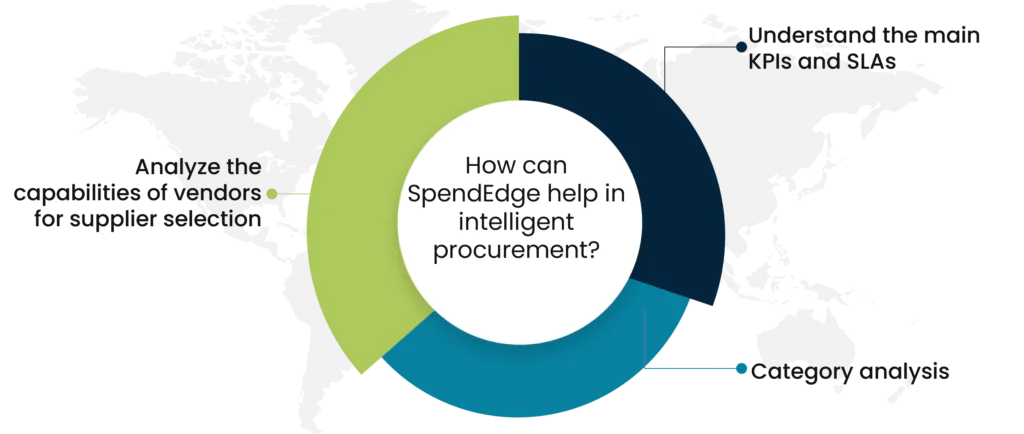 Category Analysis:
At SpendEdge we conduct a market analysis of intelligent procurement solutions, focusing on examining market trends, recent advancements, supplier actions, and related insights. This assessment will delve into the evolving landscape of intelligent procurement solutions, highlighting any emerging trends, significant developments, and the strategies adopted by suppliers in this domain. We perform comparative studies of suppliers on multiple parameters, undertake supplier cost comparisons for diverse country sourcing markets, and gain more visibility on predicted cost movements.
Analyze the capabilities of vendors for supplier selection:
At SpendEdge we perform a thorough evaluation of suppliers offering automation and intelligent procurement solutions, focusing on assessing their capabilities and the latest innovations in their offerings, such as new product features and functionalities. You can gain insights into the vendors' strengths and offerings in this space. By leveraging our intelligence we help you in gathering in-depth supplier intelligence and market insights related to procurement automation and intelligent solutions.
Understand the main KPIs and SLAs:
With the help of our expert intelligence at SpendEdge, ,[/.;l=.o[p0 gain insights into the primary Key Performance Indicators (KPIs) essential for assessing vendor performance and discern the key Service Level Agreements (SLAs) that should be incorporated into contracts to guarantee the delivery of top-tier service quality. We offer expertise in defining and implementing effective KPIs and SLAs for vendor management in the context of procurement.
The success story of how SpendEdge helped an industrial equipment manufacturer
Our client is a European industrial equipment manufacturer that has been using legacy systems to manage its procurement process. Since most of the procurement software being used by the client was an array of stand-alone modules focused on individual processes, the client was looking for a unified procurement platform to help it automate and optimize the entire source-to-procure (S2P) process cycle.
Our SpendEdge's experts employed a comprehensive two-step approach to address the client's needs. Initially, we conducted a best practices analysis, evaluating both the client's peers' processes and the best practices in supplier relationship management. Subsequently, a meticulous analysis of various procurement software options in the market was conducted, encompassing feature assessments, cost evaluations, and support offerings for each system. Furthermore, our team established a set of critical Service Level Agreements (SLAs) for inclusion in the contracts, along with Key Performance Indicators (KPIs) to gauge the effectiveness of these solutions, ensuring a well-rounded and informed solution for the client.
The industry best practices shared by us helped the company make some quick changes to their current procurement processes to see some immediate improvements such as better visibility on available inventory, simplified order placement, and better tracking of ordered raw materials. Additionally, the insights on vendors helped the client to narrow down a small set of suppliers who were invited to the RFx stage. In addition, the SLAs provided by us were used by the client to develop a favorable agreement.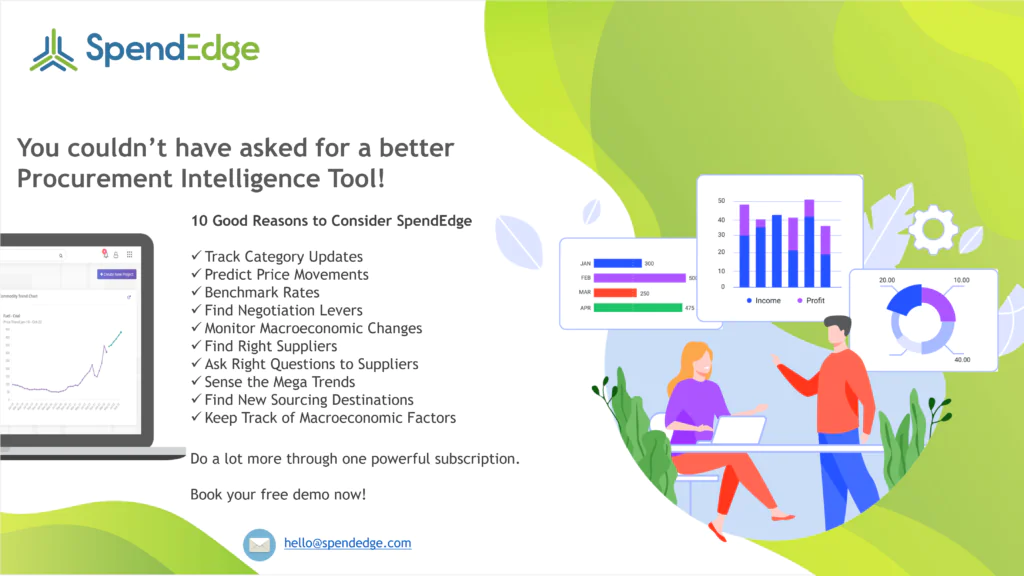 Contact us now to solve your procurement problems!
Author's Details
George Mathew
Associate Vice President, Sourcing and Procurement Intelligence
George is a procurement specialist at Infiniti Research and provides advisory services to clients across the pharmaceutical, CPG & FMCG, energy, and automotive sectors. He specializes in the procurement areas of industry benchmarking, cost modeling, rate card benchmarking, negotiation advisory, and supplier intelligence.