By: George Mathew
Procurement's remarkable transformation journey extends beyond process automation, incorporating sustainable practices, ethical sourcing, and a strategic role in shaping corporate goals. This multifaceted evolution aligns procurement with broader business objectives, fostering innovation and growth. The term procurement transformation, also known as procurement digital transformation describes how the role of procurement has changed from being mostly tactical to being more strategically and commercially driven. This change is required as management has assigned procurement departments additional strategic responsibilities.
Implementing the right technology solution can help speed up the process when embarking on a procurement transformation journey. Begin by documenting the role that technology will play in the transformation. To achieve a consumer-like shopping experience, it is recommended that you search for a Procure-to-Pay technology provider. On the other hand, if your objective is to increase transparency in spend, it's advisable to invest in a reliable Business Intelligence tool, provided that you have accurate and detailed spend data. Procurement teams must create value, provide long-lasting outcomes, and support companies in keeping their competitive advantage in the face of supply chain disruptions and market changes.
Procurement transformation: Why there is a need for digital transformation in procurement
Value creation in business to improve agility:
Creating value in business through procurement agility means the ability to adapt quickly and effectively to dynamic market conditions and supplier relationships. Procurement teams are expected to perform as strategic, value-creating business partners that contribute to improving business agility, financial visibility, and process resilience. The most significant procurement issues experienced by B2B buyers are reliable delivery, maintaining compliance with spend policies, complex purchasing systems, complex approval processes, and time-consuming invoice reconciliation. Almost all of these issues are due to complex and disconnected procurement processes. Such issues highlight the need for digitizing and automating purchasing and procure-to-pay processes with a software solution that offers management controls.
Ongoing shortages of IT resources and developers:
Organizations often face the problem of relying too much on their IT teams. These teams play an essential role in almost every aspect of the company, from coding to fixing software bugs and resolving service requests. However, requesting IT support for solving issues in large and complex procurement processes can be quite challenging due to the ongoing shortage of IT resources. One solution to this problem is the automation of repetitive tasks in the procurement process. This approach can be a great relief for the IT team, allowing them to focus on more important issues.
Rapidly changing procedures: An excess of manual activities
The fast-paced evolution of business procedures, coupled with an abundance of manual tasks in procurement, necessitates a shift toward digital transformation. Traditional, paper-based processes are slow and error-prone, leading to inefficiencies. Digital tools offer automation, data analysis, and real-time insights, significantly improving speed and accuracy in procurement. Moreover, they streamline supplier management, cost control, and contract compliance, enhancing overall operational efficiency. Digital transformation not only reduces human errors but also empowers procurement teams to be more agile, data-driven, and strategically aligned with organizational goals. It's a crucial response to the modern demands of speed, accuracy, and competitiveness in procurement.
How can companies seek help from SpendEdge for procurement transformation?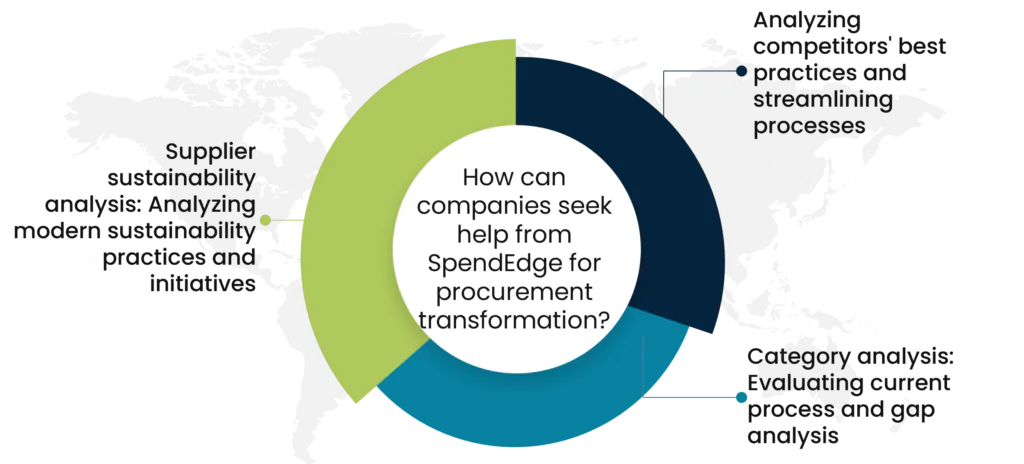 Category analysis: Evaluating current process and gap analysis
Our category analysis can help you improve your procurement process by focusing on key areas such as cost, risk, and innovation. With this analysis, you can easily evaluate your current process and identify any gaps. Based on the results of the analysis, you can make informed category decisions that are backed up by precise data on cost drivers. This will allow you to accurately estimate the true cost of your purchases and negotiate better supplier rates, even during times of market volatility.
Analyzing competitors' best practices and streamlining processes:
It is essential to understand the most widely recognized and accepted set of procedures that serve as benchmarks and aid in improving the efficiency and end results of sourcing and procurement activities. Our job is to help you analyze competitors' practices, and streamline processes, and policies to drive efficiency. By enforcing best practices, we can streamline processes and bring in standardization of operations, which reduces confusion. Eliminating unnecessary steps and streamlining processes improves efficiency and collaboration.
Supplier sustainability analysis: Analyzing modern sustainability practices and initiatives
Our approach to sustainability involves examining sustainability initiatives, modern sustainable practices, and efforts to address existing and potential sustainability gaps. We assess social and environmental risk factors for each supplier and monitor compliance challenges in the supply chain. We use relevant insights to make informed decisions. We help you in establishing short-term and long-term goals for suppliers in all tiers to lay the path to a sustainable future for the organization and society.
Success story: SpendEdge helped a food and beverages company in procurement transformation
Our client is a US-based food and beverage company with a chain of stores in different cities in the US and around the world. With the world stepping into digital transformation our client also focused on transforming its procurement process to create more value and gain a competitive edge, as the company's procurement process lacked in efficiency, leading to delays, redundancies, and increased costs. The client has also limited visibility into supplier performance and market trends hindered their strategic sourcing decisions.
Our experts at SpendEdge conducted a thorough analysis of key procurement categories such as raw materials, packaging, and logistics to identify cost drivers and optimization opportunities. Utilized data analytics and market intelligence tools to gain insights into supplier performance, pricing trends, and demand patterns. Furthermore, our experts implemented e-procurement tools and automation to streamline the procurement workflows, provided in-depth analysis of competitors' procurement strategies, benchmarked client's business operations against industry leaders, and identified best practices related to supplier selection, contract negotiation, and risk management to incorporate into client's procurement processes.
Our solutions helped the client to streamline the procurement processes, which resulted in reduced lead times, allowing for quicker response to market demands. Our strategies also led to a significant reduction in procurement costs, contributing to higher profitability.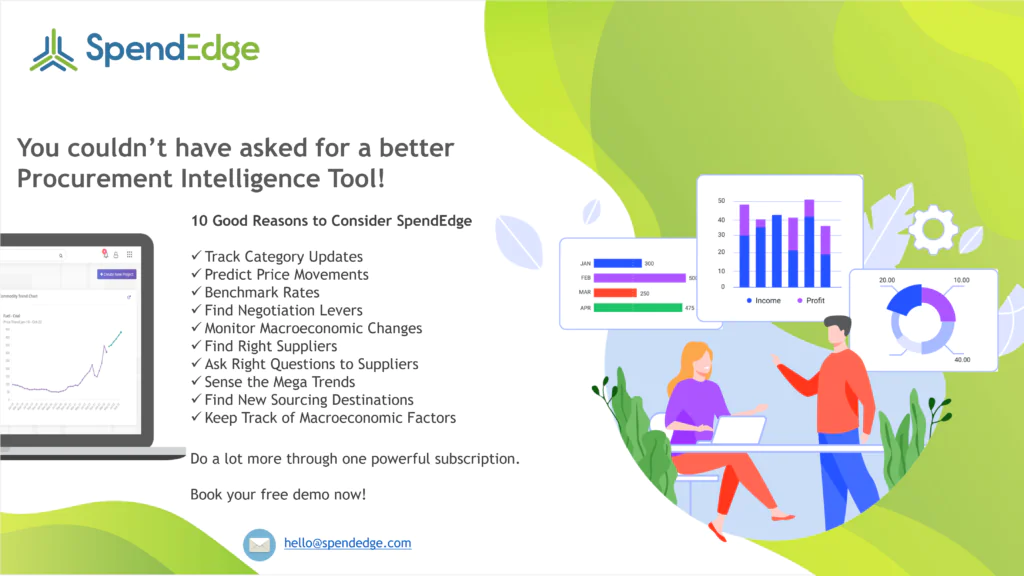 Contact us now to solve your procurement problems!
Author's Details
George Mathew
Associate Vice President, Sourcing and Procurement Intelligence
George is a procurement specialist at Infiniti Research and provides advisory services to clients across the pharmaceutical, CPG & FMCG, energy, and automotive sectors. He specializes in the procurement areas of industry benchmarking, cost modeling, rate card benchmarking, negotiation advisory, and supplier intelligence.