Embracing the Revolution of 3D printing
In a world where agility and resilience are paramount, 3D printing has emerged as a transformative force in supply chain management. Its ability to expedite production, enable localized manufacturing, facilitate customization, and reduce waste is reshaping traditional supply chain strategies. As technology continues to advance and barriers diminish, companies that embrace additive manufacturing are poised to thrive in the dynamic landscape of tomorrow. The time to unlock the potential of 3D printing in supply chain management is now – are you ready to lead the transformation?
3D printing can provide businesses with a competitive edge. From reducing lead times and costs to enhancing supply chain resilience and sustainability, the benefits of 3D printing in supply chain management are undeniable. By integrating this technology strategically, companies can streamline operations, optimize inventory, and meet customer demands with unparalleled efficiency.
The Transformative Role of 3D Printing in Supply Chain Management
In the era of personalization, consumers expect products tailored to their preferences. 3D printing enables the mass customization of products, offering unique experiences without driving up production costs. Businesses can create items that align precisely with individual customer needs, fostering brand loyalty and differentiation in competitive markets.
The days of shipping goods across continents are evolving. 3D printing lets you rewrite the playbook with localized production. Set up shop closer to your customers and cut through the complications of lengthy logistics. Need a spare part? No need to wait weeks for delivery – produce it on the spot and minimize downtime. This is supply chain resilience at its finest, reducing costs, carbon footprint, and those nerve-wracking supply chain disruptions.
Time is money, and traditional manufacturing methods often demand significant lead times due to intricate tooling, mold creation, and setup processes. 3D printing alters this equation dramatically. By eliminating the need for extensive tooling, it enables companies to accelerate time-to-market. Rapid prototyping empowers designers to quickly iterate and refine designs, enabling a streamlined process from conception to production.
Shaping Tomorrow's Supply Chains: How 3D Printing Revolutionizes Industries Across the Spectrum
Pushing Boundaries in Aerospace and Defense: 3D Printing's Impact on Redefining Performance
In the aerospace and defense industries, precision, lightweight components, and customization are paramount. 3D printing enables the creation of complex, lightweight structures that enhance aircraft performance while reducing fuel consumption. It also facilitates rapid prototyping for testing and validation, leading to faster innovation cycles and reduced downtime for critical equipment.
Revving Up Innovation in the Automotive Sector: How 3D Printing is Driving Change
Automotive manufacturers are leveraging 3D printing to accelerate prototyping and optimize manufacturing processes. Customized parts, tooling, and jigs can be produced on demand, reducing production lead times and enhancing efficiency. Supply chains become more agile as local production of spare parts minimizes delays caused by sourcing from distant suppliers.
Revolutionizing Healthcare: 3D Printing's Path to Personalized Solutions

The healthcare sector benefits immensely from 3D printing's potential for customization. Medical devices, prosthetics, implants, and even anatomical models can be tailored to individual patient needs. This not only improves patient outcomes but also streamlines the supply chain by reducing the dependency on external suppliers and the need for extensive inventory.
---
How SpendEdge can help you with 3D Supply Chain Management: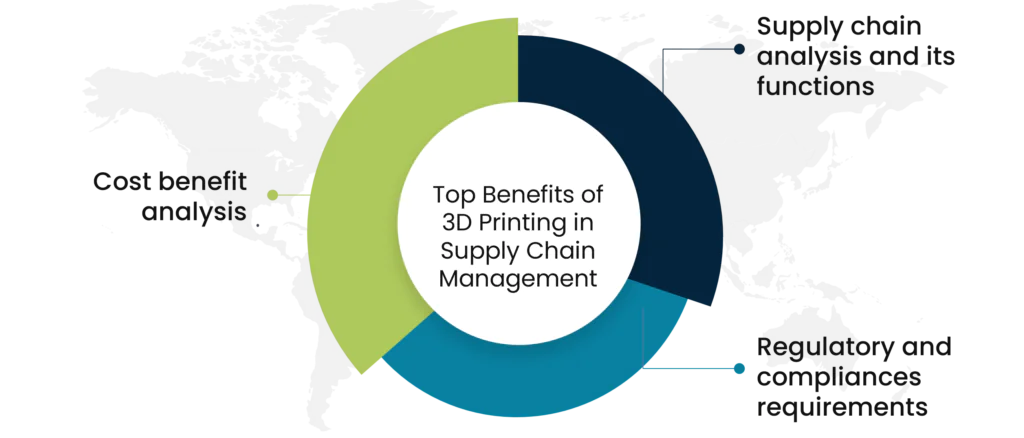 Understanding 3D printing through cost benefits analysis
Weprovide a comprehensive cost-benefit analysis that includes upfront investment, operational costs, and long-term savings. Illustrate the potential return on investment (ROI) for businesses considering adopting 3D printing.
Supply chain analysis and its functions for 3D printing
We offer to analyze a client's current supply chain processes. Identify areas where 3D printing could be integrated to improve efficiency and agility. Establish key performance indicators (KPIs) to measure the impact of 3D printing on clients' supply chains.
Regulatory and compliances requirements on 3D printing across various sector specific manufacturing
Address any regulatory requirements or industry standards that might affect the adoption of 3D printing in the supply chain. Ensure your clients understand how the technology aligns with these regulations.
Success Story, How we helped our client
We have partnered with a prominent automotive manufacturer to revolutionize their supply chain using 3D printing technology. Through meticulous analysis, we have identified critical components that could be optimized through additive manufacturing, resulting in cost savings and enhanced operational efficiency.
Our client was facing challenges in reducing production costs while maintaining product quality. We facilitated a comprehensive review of the company's supply chain and identified several intricate metal parts used in their vehicles. These components were traditionally manufactured through complex machining processes, leading to high material waste and extended lead times.
By leveraging 3D printing, we proposed a strategy that involved collaborating with local 3D printing suppliers capable of producing these metal components with precision. This approach minimized material waste, eliminated the need for multi-step machining, and significantly reduced transportation expenses associated with sourcing these components from distant suppliers.
As a result of this collaboration, our client experienced a remarkable 30% reduction in production costs for the optimized components. Moreover, the shortened lead times enabled the company to respond swiftly to market demands and changes in vehicle designs. The success of this initiative propelled the company into a position of leadership within the automotive industry, setting new standards for supply chain efficiency and innovative manufacturing techniques.