By: George Mathew
In its essence, quality control of food is all about making sure the food is safe at the time of consumption and consistently meets regulatory and industry mandates on safety and quality from farm to fork. Increasingly, participants in the F&B food chain are under pressure to demonstrate their capability to keep food safe from biological (e.g., bacteria), chemical (e.g., pesticide), and physical (e.g., metal) contaminants. Notably, as regulatory focus shifts from a reactive response to foodborne illnesses toward taking specific actions to prevent contamination, it's time for F&Bs to take charge. By acting positively and decisively before food safety and hygiene turns into a daunting challenge, the F&B sector can look ahead to harvesting triple benefits like reducing production cost, building goodwill, and boosting demand.
What is food quality control?
Practical real-world quality control in the food industry aims to locate, remove and/or fix a wide range of food safety hazards. These typically result from biological, chemical, or physical contaminants; defective packaging; lack of warning labels; and food not cooked/held/cooled or reheated at temperatures recommended by food safety and hygiene guidelines.
Recent trends in food quality control
Alarming surge in production costs:
In early 2023, contamination was the leading cause of food recalls for reasons such as traces of harmful fungal toxins, insecticides, and pesticides. More recently, hurtful levels of lead and cadmium were found in certain brands of dark chocolate, while significant levels of inorganic arsenic, a confirmed carcinogen, were discovered in popular store-bought baby foods. The cost of removing contaminated products or even a product line, where the entire brand is under a cloud of suspicion, will further tighten the budgets of already cash-crunched F&B industry participants. Producing new batches to replace products pulled from shelves and repurposing recalled products into, say, fertilizer, is sure to soar production costs. And the reason why food quality check is indispensable.
Lasting damage to hard-won brand reputation:
Public perception of a brand, built painstakingly over the years, could come unstuck almost immediately if use of substandard, unsafe, and culturally sensitive ingredients were to come to light. Inclusion of cheaper substitute constituents might have the same adverse impact. In early 2023, several of UK's reputed F&Bs and supermarkets are believed to have been scammed by a rogue food processor who allegedly passed on rotten meat products sourced from multiple overseas markets. With their reputation for food quality and reliability undermined, the businesses involved are now in a damage control mode. Four large supermarkets in the UK are still struggling to overcome the reputational risk arising out of an incident in 2013 in which traces of horsemeat were discovered in some beef burgers sold by them. Control of food contaminants is not a luxury, but a mere necessity.
Falling demand amid scary contamination recalls:
This links back to the previous ideas on the crying need for food industry quality control. Public outcry and panic in the wake of reported instances of product degradation, further amplified by callouts of the target brand on an often-hostile social media, almost always leads to some degree of brand erosion. This may cause a steady drop in sales in the absence of proactive and transparent communication with customers by the brands in question. A global beverage giant recently pulled 302,400 bottles of blended iced coffee drink over concerns about the presence of glass fragments with the potential to cause health consequences, albeit temporary ones. An advisory from the brand urged consumers with the product already in their homes not to consume it, and, instead, return the same to retailers for a full refund.
Food supplier audit checklist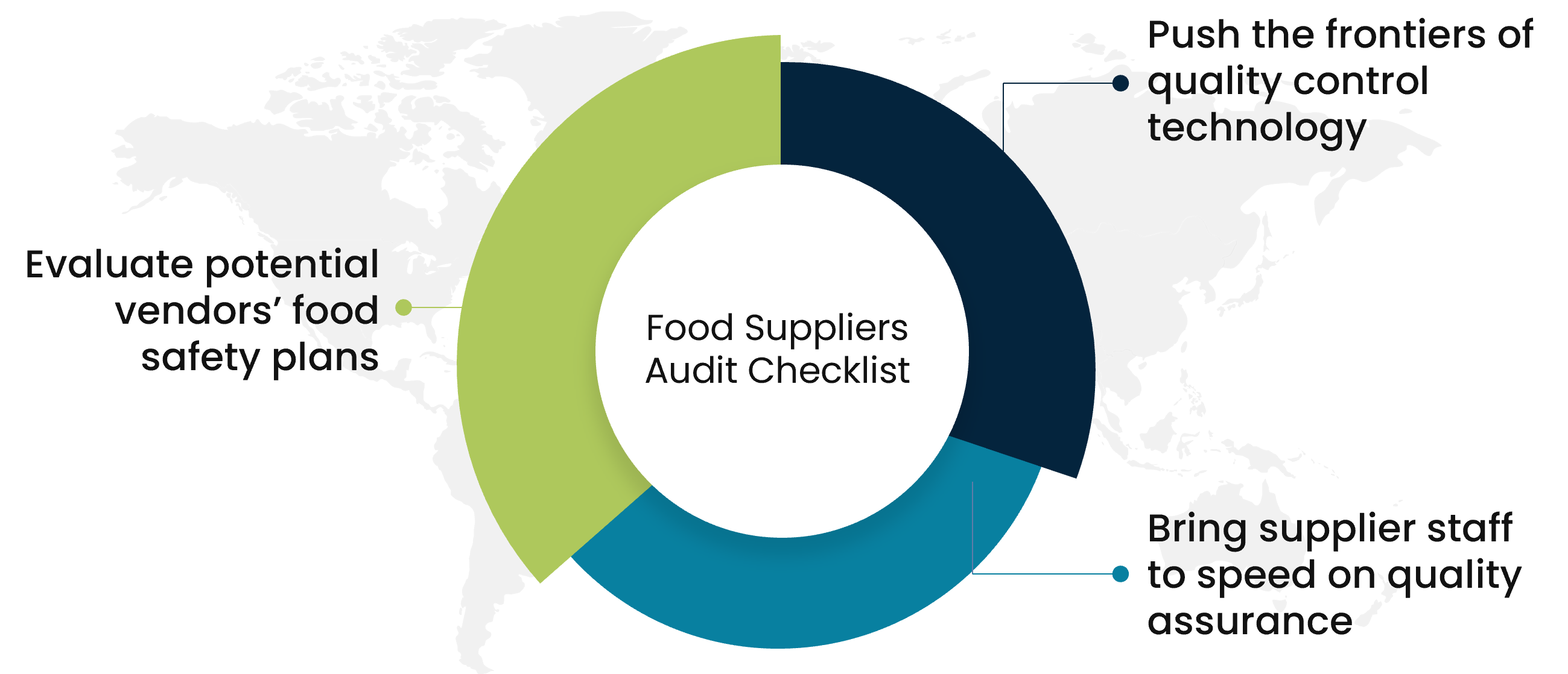 Evaluate potential vendors' food safety plans:
The F&B supply side is only as good as its weakest link, and verifying suppliers brings the much-needed assurance that supply-side operatives are indeed meeting various food quality control standards (e.g., Food Safety Modernization Act, FSMA). F&B businesses must perform a broad range of risk-based activities, covering ships, importers, and agents, to be double sure that all supply chain partners are in alignment with public health protection standards. They might also need to conduct on-site third-party audits. Control points in the F&B ecosystems, critical to food safety, must be under constant surveillance.
Push the frontiers of quality control technology:
Once sullied, brand reputations are hard to resuscitate, so an ounce spent in preventing quality issues is worth millions poured into brand damage control, post a PR crisis. Investing in contemporary inspection systems, smart web-enabled monitoring devices, accurate food labeling, and the personal hygiene of food handlers will ensure F&B outputs are safe and contaminant-free. X-ray technology can pick out hard contaminants (e.g., metal, glass), not visible to the human eye, thus preventing quality failures and improving traceability. Smart sensors detect bacterial growth in perishable chilled foods and enable real-time temperature monitoring of refrigerated F&B inventory. Clean protective clothing, disposable gloves, and personal hygiene also promote safe food handling. By the way, food quality check is a journey, not a destination.
Bring supplier staff to speed on quality assurance:
Quality control of food and beverages, as well as initiatives to stave off food contamination, whether intentional or accidental, will enable F&Bs to prevent or reduce product defects. Besides, it minimizes human errors and makes it possible for businesses to economize resource consumption. The onus is on F&B companies to situate the quality practices (e.g., HACCP, GMP, SSOP) they swear by in their major supply chain partners, and training supplier staff in food safety and critical food handling practices is the logical first step in this direction. This will usher in the highest degree of hygiene from raw inputs through production to finished goods and shut out potential sources of biological, chemical, and physical contamination. The result is outputs that are safe to consume, healthy, and yummy too.
Why Choose SpendEdge?

Tame emerging supply-side risks and threats:
Our experts help F&B market participants to effectively audit their supply chain to identify and rein in specific risks, keep a close watch on the production of suboptimal products, and reduce production costs to a minimum. Our clients in the F&B space have been able to not only enhance product quality on an ongoing basis but also minimize wastages significantly. Indeed, quality control in the food industry is paying off!
Stay on top of buyer perception of your brand:
Leveraging our time-tested supplier management frameworks, F&Bs can foster deeper and long-lasting relationships with suppliers while carrying out supplier quality audits regularly without fail. Our clients in F&B stand to derive two-fold benefits from improved food quality control standards. On the one hand, these businesses have pared production costs appreciably, while on the other, they have boosted brand reputation and awareness with high-quality products.
Create more demand for your product, improve margins:
Positive changes on the quality control front tend to deeply influence the buying public's perception of the brand for the better, in turn, spurring demand for the brand. The demand moves up the supply side from distributors to manufacturers and, further on to suppliers, sowing new growth opportunities across the supply network. Such a high demand curve will drive product prices and margins higher for F&Bs, which makes a compelling case for quality control in food industry.
Success stories – SpendEdge helped F&B firms achieve food quality control and provide best value delivery.
Our client is a North American F&B with a long list of popular jams, jellies, spreads, foods, snacks, juice, cocktails, and mocktails to its credit. Until about five years ago, the client was quick to jump ahead of the demand curve, in relation to the competition, and reap significant benefits. After all, the business' addressable market is to the tune of $1 billion. Then there were dark clouds on its radar. Consumer concerns about high sugar content, artificial preservatives, and "bad fats" threatened to dent sales.
The client sought our assistance in improving the nutritional value of several of its ready-to-eat product lines without adding to the current cost pressures. Applying our supplier quality control methodology, brought to perfection over the last 18 years, our experts identified key contract manufacturers in more cost-efficient markets who resonated well with the client's product quality considerations. Key among these was the positive contribution of the product contents to the consumer's growth, reproductive potential, general wellbeing, and overall health. Our experts vetted the capabilities of nearly 25 contract food manufacturers to meet the client's non-negotiable quality standards. The team weighed in factors like the manufacturers' quality systems, tools, and policies, as well as their compliance with FDA, USDA, HACCP mandates, besides production efficiency and fiscal stability. The client is currently working with one of the contract manufacturers from our shortlist of five, and the results so far are quite encouraging, especially with respect to food quality control standards.
A fact-based food quality check process is something no F&B can afford to do without. To know more about how our deep and accurate insights on F&B quality control can help you minimize production costs, bolster brand reputation, and improve bottom lines, contact us now.
FAQ
What are the advantages of quality control in food production?
Only a thorough no-holds-barred quality control regimen can ensure food at the point of consumption is free of contaminants and safe for consumers.
What are the procedures involved in quality control when producing food?
Documentation of chemical, physical, and microbiological characteristics of the food; ingredient specifications; recipe; approved supplier base; processes and procedures that guarantee the quality of outputs; packaging and labeling; and recall plans.
What are the advanced solutions for food quality control?
These include food quality control software, food X-ray inspection systems, and various IoT systems.
Author's Details
George Mathew
Associate Vice President, Sourcing and Procurement Intelligence
George is a procurement specialist at Infiniti Research and provides advisory services to clients across the pharmaceutical, CPG & FMCG, energy, and automotive sectors. He specializes in the procurement areas of industry benchmarking, cost modeling, rate card benchmarking, negotiation advisory, and supplier intelligence.